Sherwood Pictures Makes Faith-Based Films That Make Big Money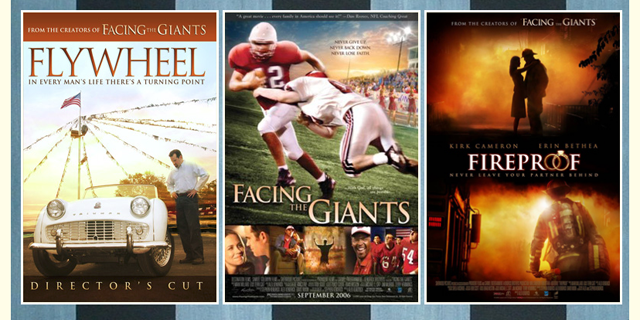 NEWYou can now listen to Fox News articles!
In a small office off the choir room at Sherwood Baptist Church in Albany, Ga., the choir director scores the soundtrack for a feature-length film.
One level below, in the church basement, two associate pastors huddle in an edit suite, picking the best shots for a tension-filled scene.
This is the new face of church ministry; making movies. And no church is more successful at it than Sherwood Baptist, now making movies under the title Sherwood Pictures.
"It's a God thing," says senior pastor Michael Catt, executive producer of Sherwood Pictures. "We are not a moviemaking industry at Sherwood pictures. We are a church that makes movies. It's part of what we do to reach the culture and touch lives."
Sherwood's first film, "Flywheel," cost $20,000 to make, sold 500,000 DVDs and helped build a studio on church grounds. Two more movies followed, each more successful and profitable than the one before it.
Sherwood's team is now in post production on its fourth film, "Courageous," due out next September.
Stephen and Alex Kendrick are the brothers who provide the fuel for Sherwood's faith movie engine.
"The secret of anything we've been able to do is that we have hitched our wagon to the Lord," says Stephen, an associate pastor as well as producer and co-writer. "He has been the center of everything that we've done."
Alex, who is also an associate pastor, co-writer, producer and director, says every film increases their learning curve.
"In each film we've had more help to raise the standard of each of these movies, especially technically, and we do it with a unity and common bond of purpose."
Where Sherwood treads, other churches are following. Calvary church in Memphis, Tenn., will release its movie, "The Grace Card," this February. And Yorba Linda Friends Church in Orange County, Calif., has just wrapped its film, "Not Today," about human trafficking.
Most churches follow Sherwood's model of relying heavily on church volunteers and shoestring budgets. But Yorba Linda got name-brand talent John Schneider to star.
For churches making films, moviemaking comes second to their ministries. At Sherwood, you won't find a film poster or billboard in the sanctuary, the entrance atrium or any of the main rooms. But you will find evidence of their success in the community.
Much of the movie profits paid for an 82-acre sports park in Albany, a community that is struggling financially.
The park is the brainchild of executive pastor Jim McBride, who's also Sherwood Pictures' executive producer. McBride can't help but get a little teary-eyed when he walks through the park's grounds, which include soccer fields, tennis courts, an equestrian center and pecan groves.
"One of the things we say always at Sherwood Pictures is that we want to reach the world from Albany, Ga.," McBride says. "But we believe we would be remiss to forget about our Jerusalem here in Georgia."
Ever since Mel Gibson grossed more than half a billion dollars with his 2004 "The Passion of the Christ," Hollywood has been trying to tap the Christian audience goldmine. But it's had only limited success, and Sherwood pictures has Hollywood execs scratching their heads trying to learn the secret formula.
Some have simply latched on to the gravy train. Sony pictures now distributes Sherwood movies.
Meyer Gottlieb, president of Samuel Goldwyn Films, says the Hollywood model, generally speaking, is not conducive to faith causes. "Hollywood is a vehicle that makes films for entertainment rather than for impact," he says. "And the church communities are making films that are both. And if they're not impactful, they don't think they've succeeded."
Sherwood's movies have all centered around an orthodox, biblical interpretation of manhood, what it means to be a father and husband, a theme that appears to be resonating with Christian audiences.
Their last film "Fireproof," cost $500,000 to make and brought in $33 million. Even for Hollywood, those numbers are heaven sent.