Seth Rogen calls out Ariana Grande and Pete Davidson for excessive PDA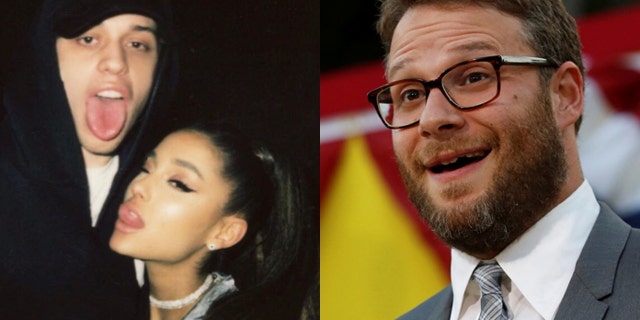 If you follow either pop star Ariana Grande or her new fiance, SNL comic Pete Davidson, on Instagram, chances are you'll feel like you're intimately involved in their relationship.
The intensely loved-up young couple have been very vocal about their weeks-old love affair on social media and it is…a lot. While we wouldn't begrudge anyone their happiness, their near-constant torrent of gooey social media comments and posts directed at one another begs the question: Have you guys every heard of texting?
"Knocked Up" star Seth Rogen put it succinctly in a comment under Davidson's latest Instagram post — a glamorous photo of Grande reclining beach side that he'd captioned: "What the actual f---."
"Guys seriously," Rogen commented underneath, which pretty much sums it up.
Davidson hit back at Rogen's less-than-supportive comment, responding with this: "when ur getting married to the hottest girl in the world tell me how you'd act."
Rogen isn't the first celeb to offer a somewhat weary reaction to Ariana and Pete's lovefest — when news first broke of the pair's engagement after just a few weeks of dating, comedian (and divorcee) Kathy Griffin tweeted Grande a warning: "Get a pre-nup girl — trust me. Protect that money."
Davidson, 24, couldn't contain his excitement about his engagement to Grande, also 24, during an appearance on The Tonight Show this week.
"I feel like I won a contest. It's so sick," he said. "It's f---ing lit, Jimmy. It's so lit."
The comedian gave Grande a stunning engagement ring that cost a whopping $126,307.