Selena Gomez Drops F-Bomb During Performance In LA, Storms Off Stage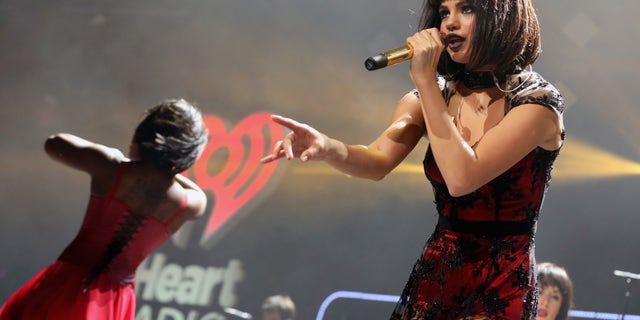 Selena Gomez is not one to lose her cool during performances, but that is exactly what happened to the pop singer during a concert at KIIS FM's 2013 Jingle Ball on Dec. 6 in Los Angeles.
She was so displeased when her audio and microphone malfunctioned that she cursed and walked off stage before finishing her set.
"She for sure said 'what the f--k,'… You could hear it crystal clear," a concertgoer told E! News, who added that it looked like Gomez was lip-synching and "she was messing around with her earpiece from the first song so you knew something wasn't right."
The "Come and Get It" singer attempted to ease the situation by chatting with the audience in between songs, according to Us Weekly.
"Sorry, the sound isn't working!" Gomez told the crowd. "Are you guys having a good night? I promise, a lot cooler people are gonna come out tonight. Is it OK if I perform two more songs and you guys can get to it? ... I have to say that before you guys go on to the people that you care about, I really appreciate you supporting everything that I do."
The clearly frustrated Gomez, though, did not perform the promised final songs – opting to walk off the stage after just one.
A concertgoer told Us Weekly that Gomez was "pissed" when she left.
Singer Ariana Grande also had technical difficulties when she performed "Right There" last in the night. According to the LA Times, she apologized to the crowed, saying, "I'm sorry the mix was off the entire time. At least you know I'm not tracked."
Follow us on twitter.com/foxnewslatino
Like us at facebook.com/foxnewslatino