Sarah Jessica Parker slams Bill de Blasio for proposing New York City library cuts
NEWYou can now listen to Fox News articles!
Sarah Jessica Parker slammed New York City Mayor (and Democratic presidential hopeful) Bill de Blasio over his proposed cuts to New York City libraries.
The "Sex and the City" star channeled her inner Carrie Bradshaw and wrote a missive blasting de Blasio's $11 million funding cut proposal, which the New York Post reports would force the New York Public Library to cut back its hours and services offered.
"As Carrie Bradshaw might, I couldn't help but wonder: Can New York City survive without strong public libraries? Could I, as a New Yorker, accept cuts to our wonderful, important, necessary, and beloved libraries? I'm sorry. I can't," she wrote.
SARAH JESSICA PARKER SLAMS TABLOID REPORT ON MARITAL PROBLEMS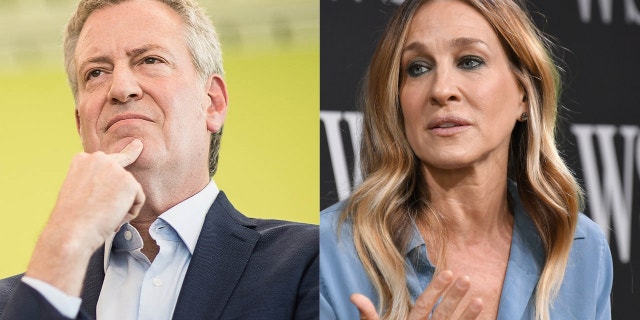 SARAH JESSICA PARKER SAYS 'SEX AND THE CITY' WAS 'SUFFOCATING'
"It is not only a regular neighborhood stop for books, programs, and more, it is a cornerstone, a beacon, and one of the most beloved buildings in our community. I don't know what we'd do without it," Parker, 54, continued.
At the urging of Parker's note, several hundred people wrote "sticky notes" in support of their local libraries for InvestInLibraries.org.
SARAH JESSICA PARKER TALKS ALLEGED FEUD WITH 'SEX AND THE CITY' CO-STAR KIM CATTRALL
By Sunday, hundreds of people had posted "sticky notes" with their names and that of their neighborhood lit house, including beloved ones in Midtown, Battery City and Yorkville in Manhattan.
CLICK HERE TO GET THE FOX NEWS APP
Angela Montefinise, a senior public-relations director of NYPL, told the Post of the proposed budget cuts, "The impacts would be especially difficult, as we actually requested $35 million in additional funding this year to cope with rising costs, expanding and new branches to meet that growing needs of New Yorkers."