Salma Hayek gushes about marriage, says it's her 'biggest accomplishment'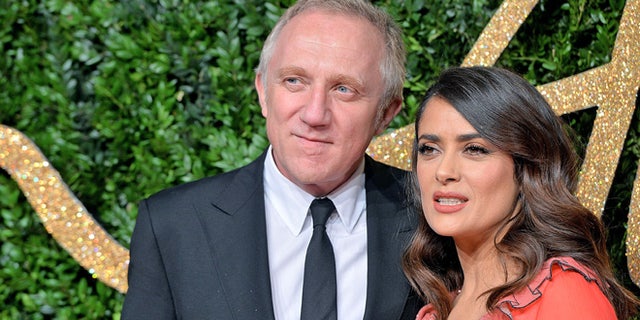 Salma Hayek is all about having sex with her husband, but doesn't believe the act is key to a successful marriage.
In a revealing cover story for Red magazine's July issue, the 49-year-old Mexican actress opened up about being a mother to Valentina, 8, and keeping the romance alive in her seven-year marriage to billionaire husband Francois-Henri Pinault.
"Sex is not the key to a happy marriage, but it's a side effect. Although not every day!" she said. "If it's every day, it loses its charm."
She said it was important to maintain chemistry in the marriage.
"You have to continue to laugh, explore, have fun with each other and have romance. A good marriage, full of love, is my biggest accomplishment," she said. "Home is where my husband is. He is home. Everything outside of the family nucleus is an adventure that you're living together."
The "Tale of Tales" actress gushed about her daughter.
"I had a child late in life. I always wanted to have a lot of children, and I was not able to," she told the magazine. "My body, as a miracle, had one. The huge blessing I've had is that my husband has three other children. So I have four. And they are all so different."
The Oscar-nominated actress then went on to criticize parents who keep their children entertained with electronics.
"You have to drag children into participating in life. It takes a lot of work and mummies are very tired because most of us work and life is exhausting, especially if you are an older mum like me, but you have to make the effort," Hayek said. "Now it's so easy just entertain them (with a screen), and you don't to go through the complaining for an hour about dragging them places. Drag them, and make them a part of your life. It's about the human connection, and the things they can learn from participating in life. Otherwise, isolation starts to happen."
Hayek's marriage is looking brighter by the day – some might even call it perfect. However, she will reject that title.
"Happiness cannot be perfect. Perfection is a mirage," she said. "If you have a vision of perfection, when you take the road to get there, if you learn in the road, then when you arrive you will see it's not perfection. Perfection can damage beauty, it can damage art, it can damage growth. Happiness cannot have this title of perfection."