Ryan Lochte talks proposal to Playboy model: 'I practiced in my bathroom'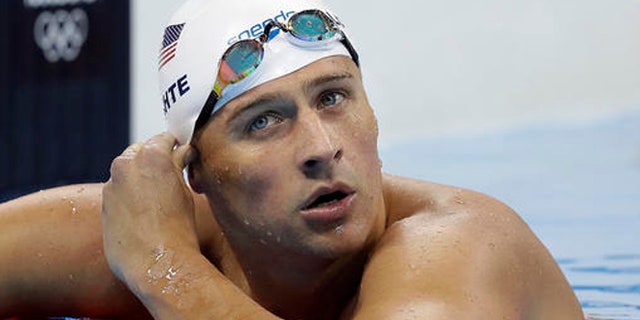 Controversial swimmer Ryan Lochte has spilled the secrets of his surprise engagement to sexy former Playboy model Kayla Rae Reid.
AS FOX411 reported, Lochte popped the question to Reid on Sunday night.
And Monday after "Dancing with the Stars," Lochte told reporters how he pulled off the romantic proposal to his girlfriend of ten months.
After cutting short his Sunday rehearsal with partner Cheryl Burke, the Olympic athlete whose life took a dark turn in Rio arranged for a helicopter to transport him and Reid to Malibu.
They took in a view of the Santa Monica pier before the pilot "landed us on top of a mountain in Malibu and on the mountain there was a picnic that had roses and champagne and everything and she's like, 'What's going on?' And so we get out and that's when I got down on one knee but I was messing it up….
"I practiced it so many times in my bathroom, like I had my suit and my jacket on and I was pulling the ring out and getting down and the words, everything is perfect and then when it actually happened, I couldn't get the ring out of my pocket and then I was stumbling on all my words. I was clammy as anything and then I finally got the courage to say, 'Will you marry me?' She said yes and I was like, 'YEEES!' My life is complete."
Although summer 2016 was a disaster for Lochte -- as he was caught lying about being robbed during the Rio games -- Reid's support made him know she was the one.
"Honestly, through everything that we've been through…she stuck behind me this whole entire time.
"When I was at my darkest point, she was my rock and that's when I knew, I'm not letting this one go," he said backstage after the show.
Lochte said the timing was right because his family was in Los Angeles to watch him at "DWTS" for "Most Memorable Year" night, in which he performed a contemporary dance with Burke. The swimmer hailed the year 2008, in which he won his first individual Olympic gold medal.
"This is something I've been wanting to do. I know she's always wanted to have her family and my family to have like an engagement celebration so I mean, this was perfect timing. My mom was coming in, my sister was there…and she's never been on a helicopter so it was like, yes, I can do all of this.' "
Lochte even clued in his pro Burke about the proposal as they flew overhead. She laughed to reporters, "He texted me, 'Look outside your house.' I was actually sick and I am like, 'I am not moving' but I did hear a helicopter.' I was like, 'Go, Ryan.'
The swimmer said he picked out a huge diamond ring similar to one Reid had previously posted on her Instagram. "I remembered it and so I wanted to get that same design. I went to a jeweler that I know and I was like, 'You have to make me a special ring.' The ring that she liked was only like two or three carats—[but I said] no, I want that big. I want everyone to know that she's taken."
Lochte added, "We're not going to hurry up and get married real quick. We want to plan out everything and make sure it's perfect and be there for her with the flowers and everything 'cause I want to be a part of this. So we'll probably do it in the fall of next year."
He doesn't care how big the wedding is, saying, "I just want my family and my friends there and she wants the exact same thing so we might keep the wedding small but the party afterwards is going to be big."
Sunday night after the proposal, Lochte, who already lives with Reid, said, "My heart was still pounding. I didn't sleep at all last night because I was like on cloud nine. My heart was beating out of my chest. She's like, 'Ryan, what's wrong?' I'm like, 'I can't sleep. I'm so excited."
And he was even happier after turning in a solid dance on Monday night, scoring 24 points with Burke: "I got a fiancé, I killed that dance. I'm on cloud nine. I'm loving it," he smiled.