'Roseanne' revival promos wink at the show's plot holes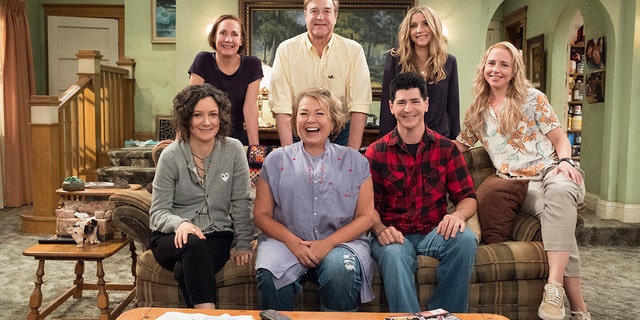 In the first live-action look at the upcoming "Roseanne" revival on ABC, the show pokes fun at its own plot holes while bringing the Conner family back together in the famed living room.
In the first set of promo videos to tease the upcoming show, which premieres on March 27, Roseanne, Dan, Becky and Darlene gather around the TV to nod to the glaring fact that Dan simply shouldn't be there.
"You can't live in the past Dan! When things are gone, they're gone forever!" the title character says when her on-screen husband remarks that the Bulls of 1996-1997 would beat today's lineup.
While the joke makes sense in its own context, it has a bit of a triple meaning. Not only is it a commentary on "Roseanne" returning after ending in 1997, but it tips a hat to the fact that the father character was revealed to have died in the final episode. It's been previously confirmed that John Goodman will reprise his role, but the cast and crew have remained curiously tight-lipped about how the revival will address Dan's existence.
"I don't want to talk too specifically, but I wouldn't say we'll ignore the events of the finale," ABC Entertainment President Channing Dungey told Vulture. "Dan is definitely still alive."
Dan's passing isn't the only meta hurdle the show will have to vault before getting into the typical Conner family hijinx. Fans were surprised to learn that both Alicia Goranson and Sarah Chalke would return as Becky. Goranson left the show before its run ended, forcing the series to recast the Becky character with Chalke.
According to Entertainment Weekly, the show will utilize both actresses by making Chalke a new character. Andrea is a middle-class married woman who hires Becky (played by Goranson) to be her surrogate.
You can watch the new promos below.