Rose McGowan blasts Justin Timberlake, opens up about her Meryl Streep rant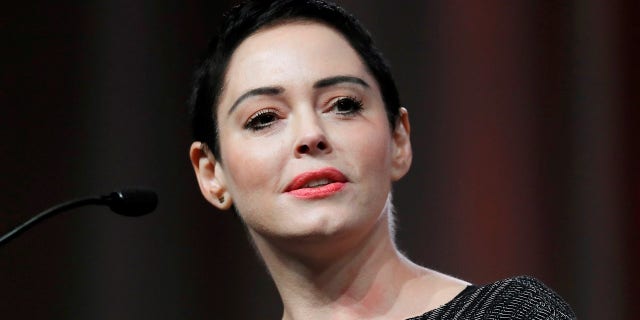 Rose McGowan has clarified her feelings about Meryl Streep while also singling out Justin Timberlake in a new interview.
On Tuesday, McGowan sat down with E! News to talk about her new E! docu-series, "Citizen Rose." In the interview, the actress shared some new thoughts about Academy Award-winning actress Streep.
Back in December, McGowan attacked Streep on Twitter, calling out the actress for not taking more of a stand against Weinstein.
"She released a statement and it was kinda shaming like 'I didn't know in the 1990s,' or something that this happened to her. No, but you've been around for a long time too, longer than me. And you know... the score in Hollywood. I don't know if she lives in such a rarified circle that nobody tells her anything, I can't say. I don't hate her. She's a tremendous actress, she's tremendously gifted, but anybody who kisses his ass is gross to me. Can't help it. Sorry."
In December, McGowan said in a now infamous tweet, "Actresses, like Meryl Streep, who happily worked for The Pig Monster, are wearing black @GoldenGlobes in a silent protest. YOUR SILENCE is THE problem. You'll accept a fake award breathlessly & affect no real change. I despise your hypocrisy. Maybe you should all wear Marchesa."

When Streep released a statement about Weinstein saying that Weinstein's actions were "the most gargantuan example of disrespect," McGowan lashed back at the actress again and tweeted, "No, Meryl, IT'S A F---ING CRIME. You are such a [liar] #ROSEARMY."
In one part of McGowan's "Citizen Rose," the activist addresses the Time's Up movement and star's decision to wear all black at this year's Golden Globes. But McGowan said that she didn't understand the black dress and called the event a PR stunt.
"I feel strongly that a lot of these women and men are well-meaning and well-intentioned, but you see I know... who's behind it: [the Creative Arts Agency]. And they're trying to resurrect their image because I've accused them of human trafficking because they knowingly sent women to profit off of their bodies," McGowan said.
She then went on to use Justin Timberlake and his wife, Jessica Biel, as an example.
"So someone like Justin Timberlake showing up wearing a black shirt and taking a picture of Jessica Biel and hashtag something like, 'Doesn't my wife look hot?' hastag Time's Up. And then I wanna be like hashtag Woody Allen, that's who you're working with. So the thing is collectively it felt really wrong," McGowan said. "When I tweeted about it, people think I'm sitting there in a rage, 'Grrr.' I was crying. I know that town, I know these people, I know what they do. I know what they were saying at that black dress meeting."