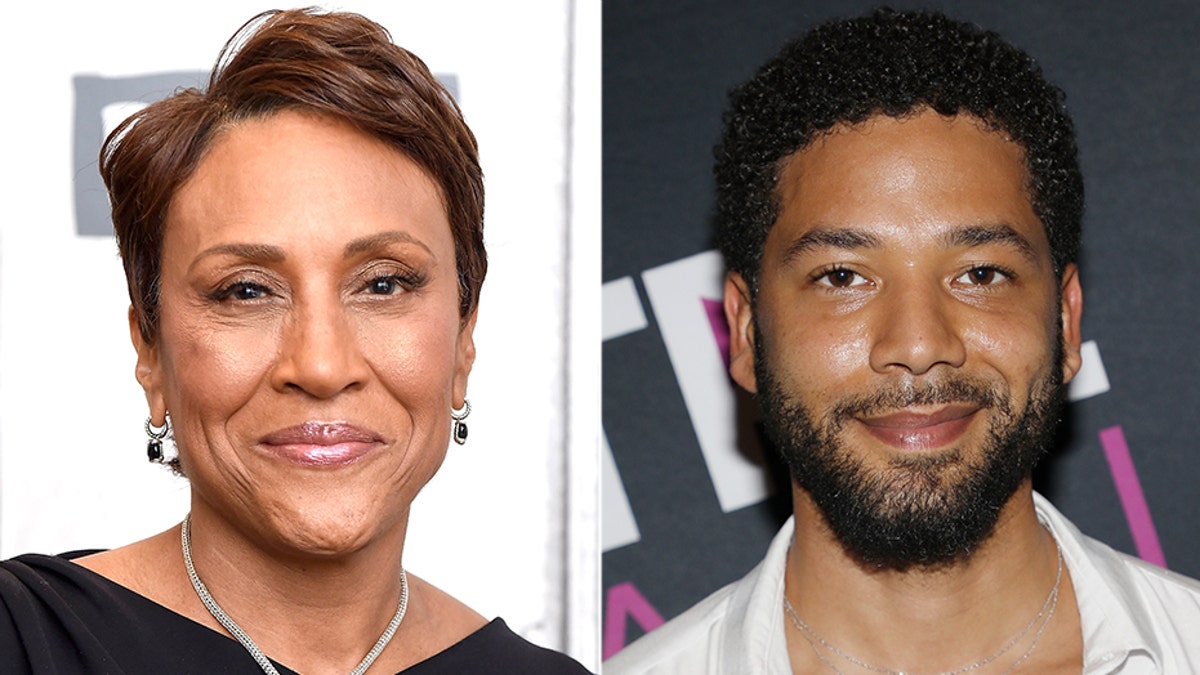 "Good Morning America" co-host Robin Roberts addressed on Monday's show her exclusive interview with Jussie Smollett, saying that Chicago police believed the "Empire" actor was credible at the time of their sit-down.
"When I sat down with Jussie it was Tuesday night in Chicago, at the time to give his first account, publicly give his first account of what he said happened," Roberts said. "At that time, on Tuesday, police officers were saying that his account was consistent, it was credible, and that he was being cooperative. This was all before the interview aired on Thursday, and then we found out about the brothers."
Roberts said "police often say something publically" but have other theories behind the scenes.
CORY BOOKER 'WITHHOLDING' JUDGMENT ON SMOLLETT CASE AFTER CALLING IT 'ATTEMPTED MODERN-DAY LYNCHING'
Last week, Smollett – who is black and openly gay – sat down with Roberts and declared he was "pissed off" that people didn't believe his claim that two Trump supports attacked him.
Media Research Center analyst Kristine Marsh noted that Roberts "did not refer to the attack as 'alleged' even once" and instead treated him "as if he were a martyr, with fawning questions."
"Roberts came to Smollett's defense, at one point, telling her fellow anchors that his story was 'credible,'" Marsh wrote.
But over the weekend, several major news organizations reported that Smollett's story could be a hoax, and ABC News legal analyst Dan Abrams explained to Roberts that comments the actor made during the interview could be used against him if his story turns out to be a fraud.
"In that interview, [Smollett] specifically says, 'Yeah, those two guys on the surveillance footage, those are the guys that attacked me,' so now he's sort of boxed in," Abrams said.
Smollett told the Chicago Police Department that he was attacked by two men on Jan. 29 while walking home to his apartment. He alleged the men hurled racial and homophobic slurs at him, beat him and poured an "unknown chemical substance" on him.
JUSSIE SMOLLETT SAYS HE'S 'PISSED OFF' AFTER ALLEGED ATTACK IN CHICAGO
But after he sat down with Roberts, Chicago police questioned two Nigerian brothers in the reported attack and released them Friday without charges. Police spokesman Anthony Guglielmi said the pair had given officers information that had "shifted the trajectory of the investigation."
"Roberts gave Smollett a soft platform to spin his tall tale less than 24 hours before it was blown to pieces," NewsBusters managing editor Curtis Houck wrote. "They wanted to give him the benefit of the doubt."
Abrams disagreed on "GMA," saying: "I have to say, Robin, even in the interview that you did, you were talking about the skeptics."
Smollett doubled down on his story during last week's interview with Roberts when he was asked about the people questioning his version of events.
"At first it was a thing of like, listen, if I tell the truth, then that's it — cause it's the truth," he said. "Then it became a thing of like, oh, how can you doubt that? Like how do you not believe that? It's the truth."
Fox News' Nicole Darrah contributed to this report.