Ricky Skaggs: "I was redneck before 'Duck Dynasty'"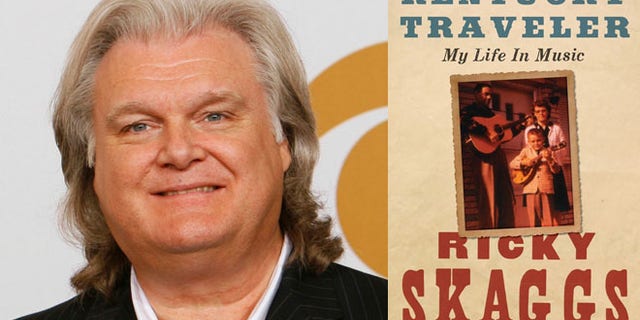 Bluegrass legend Ricky Skaggs says growing up in Kentucky, "I was redneck before 'Duck Dynasty' came out." In his new memoir "Kentucky Traveler," Skaggs recounts his years with bluegrass legend Bill Monroe, the painful breakup of his first marriage and his decision to leave country music behind for his first musical love – bluegrass.The 59-year-old father of four spoke to FOX411 about his career, and the terrible crime that nearly killed his son.
FOX411: When you switched from country to bluegrass, did everyone think you were crazy?
Ricky Skaggs: I think a lot of people were watching to see what I was doing. I'd had so much success in country music, number one hits, platinum records, people were looking and wondering why I was going back to bluegrass and then when they saw me start my own independent record label, I think they went, 'Oh that's one of the reasons he's going back.' Certainly the major record labels of Nashville were laughing about it. But it was a great thing for me; it gave me the creativity I really wanted to be able to make the music I want to make.
FOX411: Your Dad really forced you to practice. It's so hard to get kids to practice instruments!
Skaggs: I think today it's a lot harder to get kids to practice then when I was a kid. I didn't have video games, Nintendo 64, like kids have now. There's so much distraction now. When kids come to see me in concert and ask for advice I say, 'You can't treat this like a hobby. If you really want to be good, you've got to give it some time. You've got to turn off the TV and games and really use your heart and mind and soul and create something cool with your instrument and in order to do that you have to spend time with it.'
FOX411: When your son Andrew was seven, he was shot in the face in a road rage incident. You write in your book that you forgive the man who did it.
Skaggs: My son, he's the one that showed the forgiveness before I did. He was the one that set the pace and said, "Dad we've got to forgive this guy because he doesn't know Jesus. He doesn't have love in his heart like I do." It really convinced me. The Scriptures say "out of the mouth of babes," and it really truly was. To walk into a hospital and see your son lying there with a bullet hole in his face is not an easy thing, but I knew if he could go through it and forgive, then what excuse did I have? I'm the father, I'm supposed to be the leader, showing him the way, and he showed me that this was what needed to be done.
FOX411: You say that when you were a country singer you got flack for talking about religion during your concerts.
Skaggs: I did, I got a lot of flak for that. I think it's something you can mature in, knowing how to do that in a way that maybe doesn't rub it in people's faces or offend people so much. I think my record label felt that if I did it, it was going to hurt my record sales and offend people. I think too when you're immature probably as I was, I think when someone tells you that you can't do something then that makes you want to do it even more.
FOX411: Do you still talk about faith from the stage?
Skaggs: I do but the kind of music I'm playing now, bluegrass -- gospel music is one of the threads through the fabric of the music. Gospel is a very strong, intrinsic part of bluegrass so it's accepted a lot more.
FOX411: How important is your faith?
Skaggs: It's the most important. If I didn't have my faith, I couldn't make it. It's the foundation I stand on. I believe in the Bible, I read it, I pray. My mother taught me how to pray and I've never forgotten that. Faith, family and music are the foundation stones I stand on.