Ricky Martin Wins Big at GLAAD Awards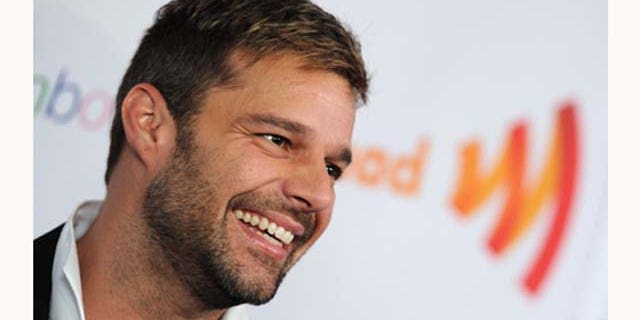 Almost a year after announcing via Twitter to be a "fortunate homosexual man," Ricky Martin has been honored for his commitment to helping others, specifically Latino youth, in the LGBT community.
Martin, 39, was presented with the Vito Russo Award by Broadway producer Craig Zadan at The New York Marriott Marquis in New York City.
The award is presented to a member involved in media who has distinguished him or herself by encouraging equal rights. Other awards will be given in San Francisco on April 10 and May 14.
"What an honor. I have no words but to say, 'thank you,'" Martin said. "GLAAD has helped me so much. A couple of months ago, I was being attacked by someone in the media in Puerto Rico, and I called GLAAD and I said 'What do you do? Because I'm new at this, I really don't know what to do.'
"They said, 'Don't worry, we'll take care of it,'" he continued. "And they hopped on a plane and they went to Puerto Rico and they did what needed to be done. And today, Puerto Rican television is one step closer to being free from hate, thanks to GLAAD. I just want to be free. I can say today I'm free."
Martin added that he couldn't have done it without his fans, his parents or his partner.
"I definitely need to thank my parents for being so supportive, my mother and my dad for their unconditional love, and my friends, my family, my fans and my partner in crime and my boyfriend, Carlos," he added.
Jarrett Tomás Barrios, president of GLAAD, can fully relate to Martin. The human rights activist is the first Latino and openly gay man to be elected to the state Senate in Massachusetts.
He founded the Latino Caucus of the Massachusetts Black Legislative Caucus and "Oíste"—a statewide organization that prides itself in the advancement of the Latino community.
"The year's honorees, nominees and award recipients represent diverse stories that are building acceptance and understanding about our community through their excellent work," Barrios said.
"GLAAD thanks all in attendance for joining us and voicing their support for equality."
Univision took home four awards in the Spanish-Language categories. These include "Outstanding Daytime Talk Show Episode: TIE: "Mamá vístete de hombre" Casos de Familia, Outstanding Talk Show Interview: "Saliendo del closet después de los 30" El Show de Cristina, Outstanding TV Journalism – Newsmagazine: "En nombre del amor" Primer Impacto and Outstanding TV Journalism Segment: "Aumenta el hostigamiento" Despierta América.
Telemundo was honored with the award for "Outstanding Novela: ¿Dónde está Elisa?" As well as "Outstanding Daytime Talk Show Episode: 'La Proposición 8' Caso Cerrado."
La Opinión was presented with the awards for Outstanding Newspaper Article for Rubén Moreno's "Acosados hasta el punto del suicidio," while María Morales from People en Español was given the award for "Outstanding Magazine Article."
PadrisimoMagazine.com's Amy Linares received the GLAAD Award for Outstanding Digital Journalism Article.
Other Latinos at the event included Wilson Cruz, an openly gay actor Puerto Rican actor known for promoting the LGBT community through roles such as "Angel" in the Broadway production of "RENT."
You can reach Alexandra Gratereaux at: Alexandra.Gratereaux@foxnewslatino.com
Or via Twitter: @GalexLatino
Follow us on twitter.com/foxnewslatino
Like us at facebook.com/foxnewslatino