Ric Flair documentary highlights the wrestler's struggles with monogamy and alcohol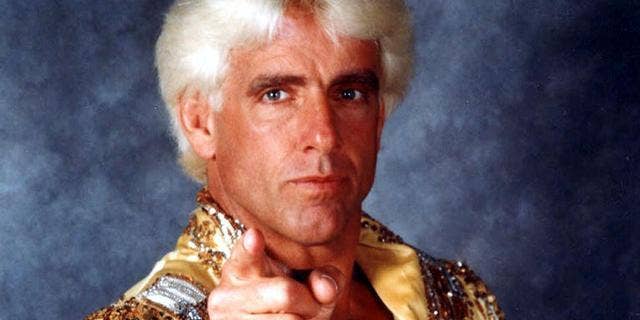 In a new documentary about the life of Ric Flair, the wrestler recalls drinking up to 15 alcoholic drinks per day and he estimates he's had sex with 10,000 women.
"Nature Boy" a "30 for 30" documentary aired Tuesday on ESPN. It featured nearly 50 wrestling personalities, family members and friends discussing Ric Flair, whose real name is Richard Fliehr.
The documentary tackled the star's notorious inability to stay monogamous. He's had four wives and confessed in the documentary to being with an estimated 10,000 women, saying that monogamy made him "miserable."
"Let me tell you something, if you're wrestling and you're in Hutchinson, Kansas, and you're gonna spend the night there, I'm gonna find something to do. I'm not going through that night by myself," he says in the special.
In addition to women, Flair admits that alcohol played a big role in the demise of his personal life. Specifically, he recalls a time he met with a sports psychologist in the 1980s, at the height of his drinking.
"(He asked) 'How much do you drink a day?' I said, 'I'll drink at least 10 beers, and probably five mixed drinks.' He said, 'Well, how many days a week do you do that?' I said, 'Every day.' He said, 'Well, how do you mean every day?' I said, 'I work every day. I drink a beer in the car, I get to the hotel and I drink vodka.' He came out of his chair and (he said), 'You drink every day, seven days a week, 365 days a year, and you've been doing that for how long?' I said, 'Well, let me see. It's 1989, I started in '72, you do the math. Almost 20 years.' He said, 'That's not possible.' I said, 'Oh yeah, it is.' By the time I got through with that son of a b---h, he was laying on the couch and I was on the chair talking to him."
"Nature Boy" covered the highs of the star's career as well as how people around him, such as pro wrestlers Triple H and Shawn Michaels, dealt with his depression after he lost his son in 2013.
Flair, 68, was hospitalized in August and he had emergency surgery, and doctors gave him a 20 percent chance to live.
"People say it's a miracle," Flair said in a recent interview with The Associated Press.
He told the AP he's quit drinking.
"I wouldn't even begin to think about drinking," Flair said. "If you ever hear that I'm out drinking again, say, 'Ric, you (dummy), you deserve whatever you get.'"