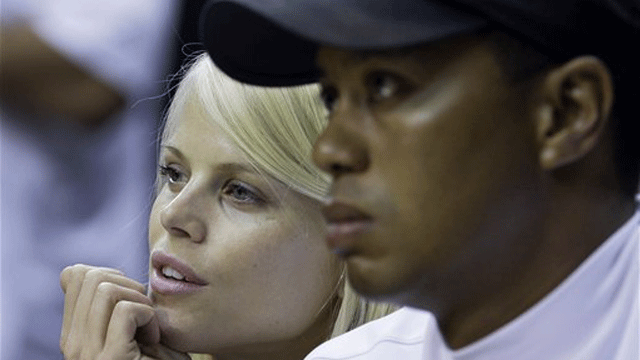 Police officers who met with Tiger Woods in the days following a car accident outside his Florida home saw no signs of domestic violence, just a "fat lip", Orlando's WESH-TV reports.
The revelation comes after a widely circulated online report claiming Woods was struck in the face with a golf club by his wife Elin Nordegren.
The report, initially posted on the blog of sports writer Furman Bisher, said the blow to the face with a 9-iron golf club fractured Woods' cheekbone and almost knocked out his two front teeth, prompting the star to seek plastic surgery.
SLIDESHOW: The Women Linked to Tiger Woods.
However, police said the report was false, explaining Woods met with the Florida Highway Patrol three days after his November car crash and no such injuries existed.
The meeting - at an undisclosed location in Orlando - took place on December 1, the same day authorities closed their investigation into the 34-year-old golfer's accident.
According to WESH-TV, a Florida Highway Patrol spokesperson said that two captains and a trooper met with Woods - who was accompanied by his attorney - so that he could sign a traffic ticket for careless driving and to check for any injuries that were not consistent with his accident.
The spokesperson said troopers noted only "a fat lip" and no other injuries.
SLIDESHOW: Tiger Woods' Wife Elin Nordegren.
They said there was no reason to believe it was domestic abuse.
Woods was "polite," said "yes, sir," and made "no other small talk and signed the ticket," the spokesperson said.
"All these rumors of these injuries are false," the spokesperson added.
When Florida Highway Patrol closed its investigation, the spokesperson said the patrol "is not pursuing criminal charges in this matter nor is there any testimony or other evidence to support any additional charges of any kind other than the charge of careless driving".
Additional authorities tried to interview Woods and his wife Nordegren several times in the days following the incident but were refused.