Playboy model Bridget Marquardt hasn't seen Hugh Hefner in years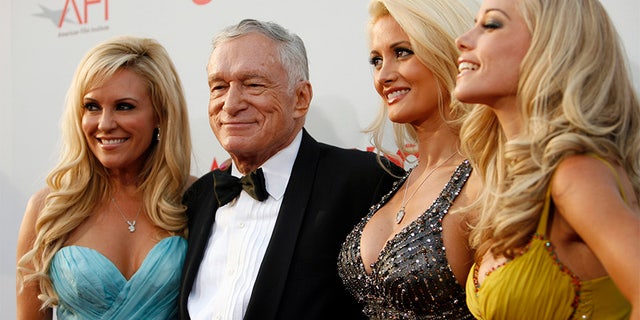 Bridget Marquardt was once the girlfriend of Hugh Hefner and the star of E!'s hit reality TV series, "The Girls Next Door," but the Playboy pinup told Australia's "The Morning Show" Monday that she hasn't heard from her ex in years.
"He told me there was always an open door, but I heard that that's not quite true lately," explained the 43-year-old model. "I called and tried to go to the mansion earlier this year… but I'm just getting the run around."
However, things weren't always this way between Marquardt and the 91-year-old magazine mogul. She said the two stayed in touch "for a while" after she left the mansion in 2009.
KENDRA WILKINSON SAYS PLAYBOY MADE A BIG MISTAKE
"I was still going back to some of the parties. Occasionally, my boyfriend [Nick Carpenter] and I would go back," she said. "I was still in touch with Hef — and then we kind of lost contact."
The Playboy founder may see things differently between the two.
"To be frank with you, this is a bit silly," a rep for Hefner told Fox News. "Hef holds nothing, but the fondest memories of his time spent with Bridget and he continues to wish her all the best in her new life."
Hefner married 31-year-old Playmate Crystal Harris in 2012.
Marquardt has also been dealing with other personal woes. The model received unwanted news after she and Carpenter thawed her eggs, which she had frozen nine years ago.
"None of my eggs survived," she admitted. "It was devastating for me. All this time I thought I had an amazing insurance policy, but it didn't work out. I thought I was doing the smart thing and the right thing, and I do still think it was. It just didn't work out for me."