Pills, injections and plain starvation: The dangerous extremes models go to for the Fashion Week runways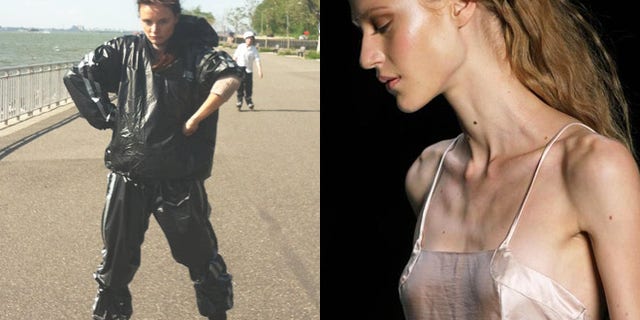 New York Fashion Week kicks off on Wednesday, and if you're a model who wants to walk the runways, you had better be a size zero. Unfortunately, getting a 5' 8" body down to a hundred or so pounds takes extreme, and often dangerous, measures.
"Packs of cigarettes, daily colonics, laxatives, Phentermine diet pills, Adderal, prescription drugs that suppress the appetite," top fashion model Kira Dikhtyar listed for us. "I've heard stories that some modeling agents encourage girls to do speed and cocaine in order to speed up metabolism and eat less. And all kinds of injections are becoming more and more popular, from HCG injections that go with a 500-calorie diet plan to T3 thyroid injections that healthy models inject in an attempt to speed up their thyroid function, which results in a faster metabolism."
Dikhtyar said others are trying hypnosis to curb their desire to eat, while some resort to eating cotton balls to fill their grumbling stomachs. One model manager said a client was forced by her agent to pee on a ketosis stick to make sure that she was adhering to the agent's prescribed Atkins Diet and not consuming any carbohydrates.
"Basketball Wives LA" star, fashion designer and former model Jackie Christie – who will be showing her collection during Fashion Week on models of all shapes and sizes – has also witnessed some jaw-dropping weight loss methods.
"From taking water pills to fat flushes, models do everything they can to flush out any excess fat or water weight before hitting the runway," she told us. "Plus I've seen models do ridiculous cleanses and diets – the lettuce soup diet, the lemon juice diet, extreme diet pills etc. I've even heard of models detoxing a full month before a show and working out three times a day. It's insane."
So why is it that the high-end magazines want more "full-figured" models on their covers these days, while the high-end fashion shows are still seeking super thin, super young girls to roam the runway?
"People that pick up magazines are consumers. They want to see people that relate to them, which will make the consumer more eager to buy products. But designers are showing their garments to the majority crowd who are mostly retailers. The collections are also considered drafts, and those drafts are fitted to a mannequin that is size 0 or 2 dress size," explained Krystle Kelley, former model turned president of the California-based Desert Models Agency. "The other concern of the designer is for the garments to flow as well as be mesmerizing on the catwalk and the way to accomplish that is for the dress, pants, gown etc. to be long. The only way to fit a long garment is with a model who is thin and tall."
Emmy Award-winning stylist and author David Zyla said that with so much at stake during the runway shows, designers do not want the models they choose to upstage their creations. "As a result the models chosen are typically slim and androgynous so that audiences are not distracted by a curvy hip or full bosom," he said.
But there are some designers who are at least professing concern about models' health.
Earlier this year, Diane von Furstenberg, the president of the Council of Fashion Designers of America, released model health guidelines to ensure models stay healthy during fashion week. These pointers included models showing ID on the day of show to affirm they are at least 16 years old, supplying healthy meals and snacks backstage, educating the industry to identify the early warning signs in an individual at risk of developing an eating disorder, and encouraging models who may have an eating disorder to seek professional help while prohibiting any model from continuing in the profession without first being approved by a medical professional.
However, unlike some international fashion weeks such as Madrid and Israel, the CDFA stopped short of implementing a minimum model Body Mass Index (BMI) that would halt underweight models from hitting the runway.
The CDFA did not respond to a request for comment.
Several industry experts said there is only so much that can be done to certify that the models are not starving themselves.
"The issue has been raised repeatedly over the last several seasons, and as a result does seem to be getting better," Zyla said. "Modeling scouts are now not only seeking the look of the moment but are also concerned with representing bankable young women who possess a healthy outlook as well. Miuccia Prada and Herve Leger are two of the designers who have been hiring healthy-looking curvier models. Canadian designer Mark Fast has taken it a step further and since 2009 has been featuring a mixture of average and plus-size beauties on his catwalk."
"This fashion week, only Elie Tahari sent me back because I was too skinny," Dikhtyar added. "So I guess I should applaud him."