Phil Spector's Lawyer Says Actress Killed Herself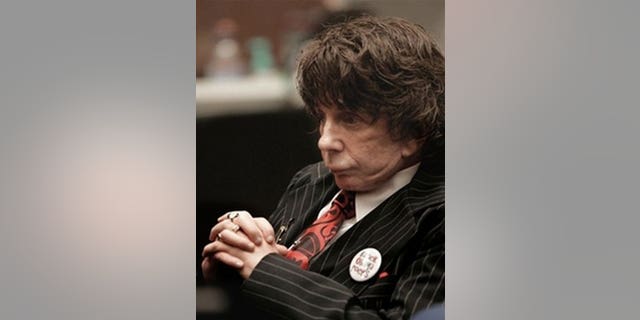 LOS ANGELES – Phil Spector's defense attorney told a jury in closing arguments Tuesday that scientific evidence proves actress Lana Clarkson pulled the trigger of the gun that killed her in the music producer's mansion six years ago.
On a large courtroom screen, attorney Doron Weinberg listed 14 points of forensic evidence, including blood spatter, gunshot residue and DNA, that he said were proof of a self-inflicted wound.
He urged jurors to ignore the prosecution's efforts to paint Spector as a bad man with a violent history, saying prosecutors told a story while the defense told the facts. The second-degree murder case is expected to go to the jury Wednesday.
"Every single fact says this is a self-inflicted gunshot wound," Weinberg said. "How do you ignore it? How do you say this could have been a homicide?"
His argument came a day after a prosecutor denounced Spector as a "demonic maniac" with a history of threatening women with guns. Weinberg had moved for a mistrial Monday, saying prosecutor Truc Do was trying to convict Spector with character evidence rather than facts.
"If you knew only what the case looks like from the outside, you'd say it sure looks like he did it," Weinberg said. "If you believe (his chauffeur), you'd probably fold your arms and say, `Looks like he did it."'
The chauffeur testified that Spector came out of his house and said, "I think I killed somebody."
But Weinberg said he trusted jurors to examine evidence presented to them in a retrial that has lasted nearly six months and to reach a different conclusion.
Most of the jurors said during jury selection that they were familiar with the events of Feb. 3, 2003, when Spector met Clarkson, who was working as a hostess at the House of Blues, and invited her to come home with him. They also knew the chauffeur's account of Spector's statement.
Weinberg said that statement led investigators and prosecutors to try to prove Spector killed Clarkson. But he said they failed.
"Mr. Spector did not kill Lana Clarkson," Weinberg said. "That's what the evidence shows."
He said the prosecution gave jurors "drama and accusations" but that they must "start with the science and forensics."
Seated in the courtroom was attorney Linda Kenney Baden, who presented a similar forensics argument at Spector's first trial, which ended in a jury deadlock in 2007.
Weinberg at one point retrieved the gun that killed Clarkson, held it in front of jurors and said blood on its grip showed that she was holding it when it went off.
"Phil Spector's DNA was nowhere on that gun," he said. He also noted there was no gunshot residue on Spector's clothing but there was some on Clarkson's hands.
Other forensic evidence he cited included no bodily tissue on Spector and none of Spector's DNA under Clarkson's fingernails.
Spector, 69, the producer known for his "Wall of Sound" recording technique, sat watching his attorney. His wife, Rachelle, one of his sons and some friends were in the courtroom.
Also in the courtroom were Clarkson's mother, sister and a group of her friends.
If convicted of second-degree murder, Spector could face 15 years to life in prison. The jury may also consider involuntary manslaughter, which carries a penalty of two to four years behind bars.