Pamela Anderson Says 'DWTS' Producers Never Asked Her to Wear Underwear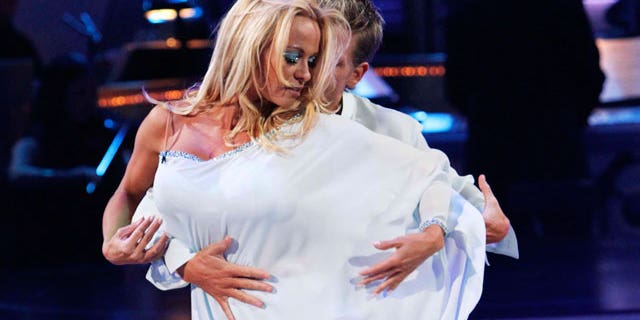 LOS ANGELES – Pamela Anderson recently made headlines with reports that she was dancing and prancing sans her bra and panties on "Dancing With the Stars," prompting producers to start insisting that the 42-year-old not only don underwear for all routines, but also wear more "modest" costumes on the family-friendly program.
However, Anderson told us that she never went without her cotton coverings and knew nothing about being told to dress differently.
"I do wear underwear! I don't think anyone has ever said anything to me," she while launching her own vegan PETA-inspired milkshake at West Hollywood's "Millions of Milkshakes." "They make the costumes, I actually don't have any say in them."
SLIDESHOW: The Lovely and Talented Pam Anderson
And clearly the producers of the hit ABC show know how to drive up the ratings, as there are plenty of shots of Anderson boogying and bouncing in a short, skin-tight fuchsia pink dress, no doubt to attract an ample amount of attention.
Speaking of attention, fellow contestant Kate Gosselin has also caused controversy recently with her rumored diva antics and unfriendly behavior, although Anderson was quick to defend the mother of eight.
"She's actually really nice; she's been nice to me. I don't know much about her, she gets her hair done right next to me and she's always really pleasant. We talk a lot about kids," Anderson said. "You don't even get the chance to be a diva because you're being tossed around by everybody all over the place. You're really part of their machine. Even me, I'm used to having things a little differently myself. You dove into this to learn how to dance, and you're kind of at their mercy, kind of like a pawn in their game, so you just go for it and do the best you can. You really only have control over your dance."
And although Anderson initially shot to fame by running in slow-motion in a red bathing suit on the beaches of "Baywatch," she wants the world to remember her for the work she does regarding animal rights.
"When I started getting a lot of attention for things I thought were ridiculous, like my boyfriends and my boobs, I wanted to share the attention with something very meaningful to me," she added. "With everything I do, I try and incorporate (helping animals) even on 'Dancing With The Stars,' the last dance I did was the Paso Doble which represents the bull fight, but I tried to make it anti-bull fight."
But on the note of fights, it seems the California State government has quite a bone to pick with the sultry, samba starlet.
Anderson has reportedly racked up a personal income tax debt of $493,144 (putting her on California's list of 250 residents with the biggest tax debts) and officials filed a lien against her last year.
A rep for Anderson did not respond for comment.