Pamela Anderson is now a standup comedian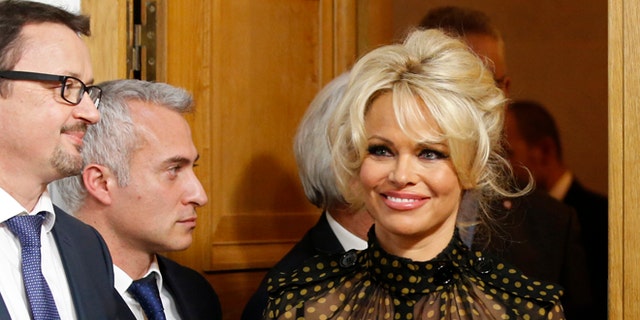 NEWYou can now listen to Fox News articles!
Pamela Anderson is reinventing herself in a very funny way.
The "Baywatch" star, 48, tried her hand at standup comedy Thursday night as host of "Gotham Comedy Live" at the intimate NYC venue.
"I've always wanted to try standup because I was inspired by all the great female comedians we've had: there's Joan Rivers, Phyllis Diller, Andy Dick," she quipped to the packed house.
Click here to subscribe to FOX411's YouTube channel
Accentuating her iconic, gravity-defying assets in a little black dress, Anderson kept the crowd roaring as she playfully poked fun at everything from her acting career to her infamous home video with ex-husband rocker Tommy Lee.
"Did you see that Hulk Hogan got $115 million for his sex tape?" she asked the audience of the wrestler's recent lawsuit. "That pissed me off! All I got were some stupid Mötley Crüe tickets."
But Anderson was good-spirited — and realistic — about her chances of being recognized by the Academy for her work on the '90s drama that made her famous.
"Let's face it, the only way I'm getting an Oscar from 'Baywatch' is if I find one in the sand with a metal detector," she dead-panned.
While little was off-limits for the Playboy Playmate's routine, Anderson wanted to avoid insulting certain friends and former lovers during her five-minute set that was simultaneously broadcast live on the AXS network.
"Pam vetoed joking about [ex-husband] Kid Rock or talking about Madonna's recent meltdown," an insider told the New York Post of her collaborative efforts with a seasoned comedy writer.