Out of 'Timeless': Days before premiere, NBC sued by Spanish TV show's makers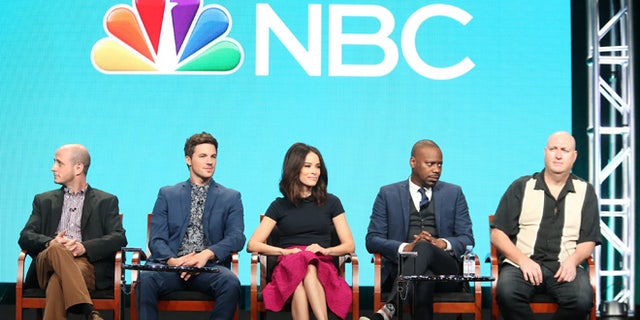 NEWYou can now listen to Fox News articles!
LOS ANGELES (AP) – The NBC show "Timeless" hasn't aired its first episode yet, but it has already prompted a copyright infringement lawsuit by the makers of a Spanish-language series.
ONZA Partners sued NBCUniversal and Sony Pictures Entertainment, claiming "Timeless" is an unauthorized version of its show "El Ministerio del Tiempo" ("The Ministry of Time").
ONZA contends it was in negotiations with Sony to produce a U.S.-version of its series, which features a three-person team that hops through time trying to stop criminals from changing key historical events.
"Timeless" also features a three-person team, with an emphasis on stopping a criminal who is intent on altering American history. The show, which the network has been promoting heavily, is set to premiere on Monday.
The lawsuit seeks unspecified monetary damages but does not seek an injunction to prevent the show from airing.
NBCUniversal and Sony declined comment because of the pending lawsuit.
"El Ministerio del Tiempo" began airing in Spain last year and has been broadcast in Brazil, Mexico and several other countries, according to the lawsuit.
It is not uncommon for shows that become successful in one region to be licensed and adapted for audiences in other countries.
The Showtime series "Homeland" is an adaptation of an Israeli show; Netflix's "House of Cards" is an adaptation of a BBC miniseries; and "American Idol" is an adaptation of a British variety show.
Like us on Facebook
Follow us on Twitter & Instagram