Offset reveals how he and Cardi B got back together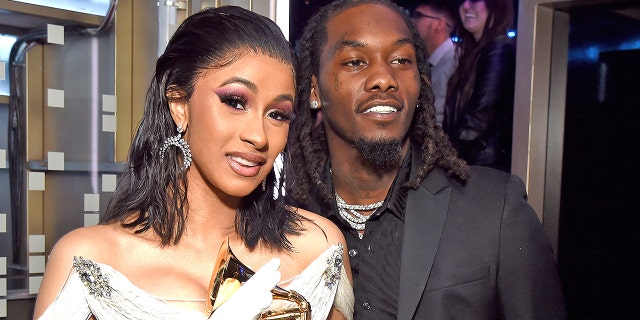 Cardi B and Offset are back together, but it took quite a bit of work to get there.
The Migos rapper opened up to The Breakfast Club about his split from Cardi, 26, late last year, allegedly due to his infidelity.
He spent quite a bit of time (and money) begging for her to take him back, and it worked.
CARDI B SAYS SHE AND HUSBAND OFFSET 'ARE NOT TOGETHER ANYMORE'
"I did some things that's wrong, but bro, don't kill me," Offset, 27, said. "Allow me and my people to work this out, 'cause now it's serious. It's not no game."
He added, "You gotta learn it's not no game. It's a family thing. You can lose it. I don't give a damn, I love my girl. I don't ever wanna lose that feeling."
CARDI B GIVES EXPLICIT EXPLANATION FOR WHY SHE WAS SPOTTED WITH EX OFFSET
"You gotta go through steps and different things so that we can grow," he said, noting that not all of his overtures were as public as his notorious floral display. "Not on the TV though, real behind the scenes, getting to know each other, getting to know who you're with and appreciate them all the way around. Because that one mistake made me appreciate her."
CARDI B TALKS POSSIBILITY OF HAVING ANOTHER BABY WITH HUSBAND OFFSET
Another lesson Offset learned recently? Sipping sizzurp will cost you. The "Father of 4" rapper says he's stopped using lean (a drug made with cough syrup, often containing codeine) in an effort to build more wealth with his wife.
CLICK HERE TO GET THE FOX NEWS APP
"On lean, I ain't gonna make $100 million," he said, noting it was one of the factors that almost made Cardi walk away. "Certain things you do, if you don't change it, you lose the people around you."