Nigella Lawson choked by husband in restaurant, report says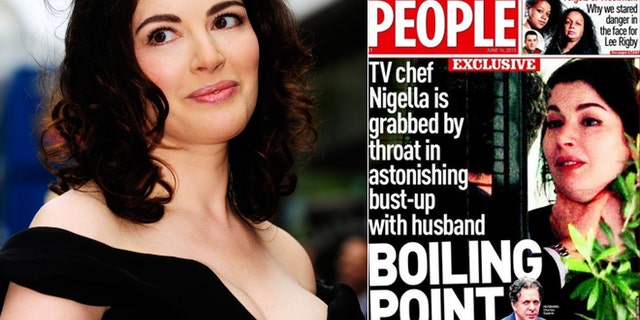 Celebrity chef Nigella Lawson was photographed being choked repeatedly by her husband at a London restaurant, according to a report in the UK press.
Charles Saatchi, 70, grabbed Lawson, 53, by the neck several times according to the Daily Mirror, which ran several photographs in the paper and on its website.
After the meal, Lawson was also photographed crying outside the restaurant.
"It was utterly shocking to watch," a witness was quoted as saying. "I have no doubt she was scared. It was horrific, really. She was very tearful and was constantly dabbing her eyes."
Saatchi issued a statement to the London Standard on Sunday shortly after the photographs were published.
"About a week ago, we were sitting outside a restaurant having an intense debate about the children, and I held Nigella's neck repeatedly while attempting to emphasize my point," he said. "There was no grip, it was a playful tiff. The pictures are horrific but give a far more drastic and violent impression of what took place. Nigella's tears were because we both hate arguing, not because she had been hurt."
Saatchi said the two had made up by the time they got home.
The restaurant where the argument took place also issued a statement: "The staff and management at Scott's are aware of the reports in the media and would like to make it clear that they did not see the alleged incident nor were they alerted to it at the time."
Lawson is famous for her popular cookbooks and cooking shows. Saatchi is the co-founder of the advertising firm Saatchi & Saatchi. They have been married for 10 years.