HGTV star Nicole Curtis says son was 'ripped' out of her arms on Thanksgiving due to custody constraints
"Rehab Addict" star Nicole Curtis says she was separated from her three-year-old son on Thanksgiving thanks to her ex's enforcement of their very strict joint-custody arrangement.
The star took to Instagram earlier this week to share the anxiety-inducing experience with other joint-custody parents in the hopes they'd gain some hope from it.
"I've been asked what my Thanksgiving plans are and receive horrified looks when I say nothing. Don't get me wrong-it's me for God's sake -the protector of formal dining rooms, of course,every bone in my body yearns to cook, entertain and stuff myself full of my gram's pie recipe that I never will get just right," she wrote in an Instagram post for an image of her, her ex and their child. "But like so many others we are trapped in the fd world of "not your parenting time". So, while I gladly and happily wish all a blessed Thanksgiving who celebrate it like I dream of doing so -my words are here today to tell the rest of you, like us, you're not alone -I certainly never expected to be in this situation & would have my ex at my dining room table today (still as my ex, don't get me wrong), but it's not up to me."
As previously reported, facilitating joint custody has been a struggle for Curtis and her ex, Shane Maguire, after he filed for sole custody of their 3-year-old son earlier this year after complaints that she's unwilling or unable to make the parenting relationship work. However, the duo reached an agreement in October, but there's apparently still friction there.
"The holidays are a nightmare because I would have all of us together — friends, family, enemies alike," the HGTV star told People. "Thanksgiving was not my parenting time; therefore, I could not be with Harper."
She continued: "Even on the worst day, my ex is encouraged and welcomed in our home. We recently all went trick-or-treating together, even thought it was 'my parenting time.' I always hope that the same courtesy will be extended, but it is not. I am not permitted to be with Harper during his time with his dad."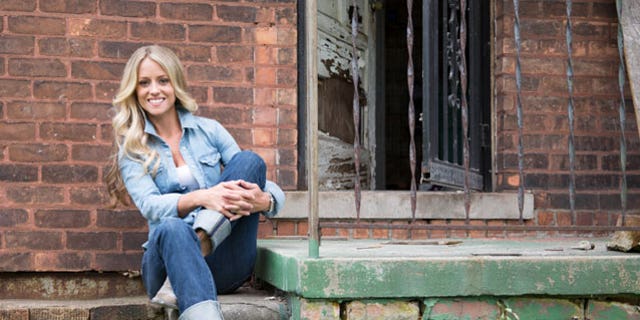 She went on to explain that Harper was sick on the day before Thanksgiving, making it difficult for her to give him up on the holiday.
"I arrived at the airport and literally had my baby ripped out of my arms and whisked away as I was 'screwing up' Thanksgiving plans. The cycle never ends."
Curtis told the outlet that, in these difficult times without Harper, she finds comfort in the fact that other parents are going through something similar.
"And if you are the parent that refuses to allow your child the joy of having both parents in the same room (sans abusive/dangerous situation) —buck up -it's not about you," she concluded her lengthy Instagram post.