'Newlyweds' 2.0? 12 Reasons Why Courtney Stodden Could Be the Next Jessica Simpson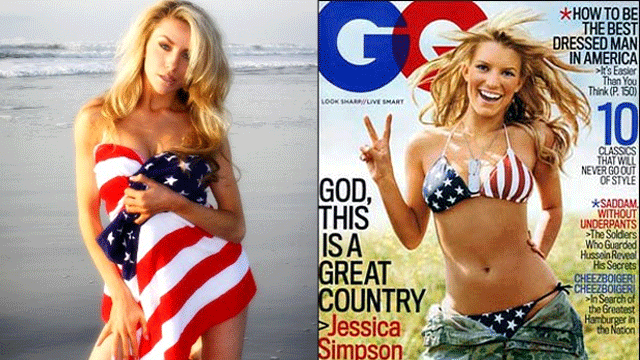 NEWYou can now listen to Fox News articles!
Think you're seeing double?
Well, if you kind of blur your eyes, you could easily mistake 16-year-old bride and aspiring pop singer Courtney Stodden for 31-year-old pop singer and fashion magnate Jessica Simpson.
And the comparisons don't stop with their buxom blonde looks and American flag apparel.
We've compiled a list of 12 reasons Stodden could be the 'Newlyweds' star of her generation. (But not her husband's.)
1. Married Young to Older, More Successful Men
Jessica was 22 when she married 29-year-old, 98 Degrees singer Nick Lachey.
Courtney, 16, needed parental consent, which she got from her mother, to marry the 51-year-old "Lost" actor, who is four years older than her father.
2. Saving Themselves For Marriage
Both beauties say they remained virgins until their wedding nights.
Jessica's father, Joe, gave her a purity ring at the age of 12 and the singer said she remained a virgin until her wedding to Nick Lachey.
Courtney told GMA in an interview that "I was a virgin when I married...I knew that if I kept that I would really be blessed with a beautiful gift and God did, he blessed me with my soul mate."
3. Good Christian Girls
Jessica, a minister's daughter, began singing at her church choir at the age of 12 and while attending high school, the aspiring singer signed with a small gospel label before the company went bankrupt.
Courtney is a self-proclaimed "good Christian girl." (At this point all we have to go on his her word.)
4. Sexy Patriots, They Support the Troops
Jessica made her first trip overseas to sing for our troops in 2001, and has been actively involved with USO tours since then.
Courtney can been seen posing in a sexy American flag towel on her web site where she writes that she plans on singing her song, "We are America," for the troops at Fort Lewis/McChord, WA "in honor of their tireless service to our country."
PHOTOS: See Courtney in FOX411's American Flag Bikini Fashion
5. Education, Shmeducation
Jessica dropped out of high school her senior year to focus on her singing career and eventually went on to earn her GED.
Courtney has no plans to go to college telling the "Father Albert" show that "[Doug] is my college."
Wonder what her major is?
6. Suspect Parenting
Jessica's dad Joe was accused of selling out his young, sexy daughter to magazines like Maxim.He defended himself saying, "That's God's business, judgment. Our reason was, we're not too good to do Maxim. My first responsibility is to be a father, before I'm a manager, before I'm an executive producer. It's complicated, but it's worked so far."
Courtney's mom Krista is her manager and the one who introduced Courtney to her husband. The momager defended her decision to allow her teenage daughter to marry the 51-year-old thusly. "We all needed a good man in our lives," Krista told Fox411. "After a while you don't look at the age. You look at the love they started to have towards each other. He became more than a number to us."
FOX411's Exclusive Interview with Courtney's Mom
7. Victims of Bullying
Although she was homecoming queen and a cheerleader at her high school, Jessica said she was a victim of frequent bullying. "I had girls egging my home, writing curse words on the sidewalk in paint – just saying really nasty things about me," she said at the 2010 Women's Conference in Long Beach, CA. "I quit cheerleading because I didn't know what I was cheering for anymore!"
Courtney has addressed the issue of bullying in a video on her YouTube channel, and her song, "Don't Put It On Me Girl," was inspired by the aspiring singer's experience with bullying. Her mom told Fox411 that Courtney began home schooling in the sixth grade after relentless bullying and teasing from girls at her school.
8. Named Self-Released Album After Themselves
Jessica signed with Proclaim, a Gospel record label, and recorded her first album, Jessica. However, before the album was released the company went bankrupt, and Jessica's grandmother funded a small pressing of the album, which eventually led to her signing with Columbia records.
Courtney's only album, Courtney, can be heard on her YouTube channel and MySpace profile.
9. Inappropriate Parental Chatter
Jessica's dad came under fire for addressing his daughter's breasts in an interview with GQ. "Jessica never tries to be sexy. … She just is sexy. If you put her in a T-shirt or you put her in a bustier, she's sexy in both. She's got double D's! You can't cover those suckers up!"
Courtney has faced allegations that she must have had plastic surgery, but her mom, Krista told Fox411 that "Everything is real...usually when girls have little cute bodies, they don't have large breasts, but she's had no work done, and she doesn't need anything done."
Her husband, Doug told GMA that "Courtney's plastic surgeon was God."
Can't make this stuff up.
10. Criticized For Their Sexy Looks
Jessica was criticized by a group called "The Resistance" after the release of her "These Boots Are Made For Walking" music video. In response Jessica told the World Entertainment News Network: "It didn't really surprise me because I grew up with a lot of that backlash. That's why I didn't end up going into the Christian music industry. I think that if they're really good Christians the judgment wouldn't be there."
Courtney has had to answer critics who have said she dresses more like a hooker than a 16-year-old girl. She said she isn't fazed when woman call names, and in fact she welcomes it! "If a women doesn't call me that [slut] when I walk by, I think I need to go home and redo my hair, because I don't look as good as I did when they call me that," she told the "Father Albert" show.
FOX411: More Courtney Stodden Photos and Videos.
11. They Are Ditzy
Simpson famously told Nick Lachey on their show that she thought Chicken of the Sea was in fact made of chickens.
That single quote cemented 'Newlyweds' and Simpson in reality show history.
In an interview with E!, Stodden described her deepening relationship with her now husband as "falling, flying on the wings of love together."
Not "Chicken of the Sea" quality, but she's just getting started people!
12. Reality Ready
Jessica signed onto "Newlyweds" in 2003 in hopes that the show would give her career a boost as she released her album, "In This Skin." It worked. The show became MTV's highest rated prime-time show and vaulted Jessica onto the Hollywood A-list. (Or at least B+ list.)
Courtney and Doug have said that they have been "courted" by various producers on doing a reality show about their May-December marriage. Courtney also told GMA that "if it [her marriage to Doug] does, you know, [boost her career] that's just another beautiful blessing that God hands to me. But if I'm just with for the rest of my life and supporting him that would make me happy, too."