New York and New Jersey gird for Super Bowl related sex trafficking, while some say spike claims are misleading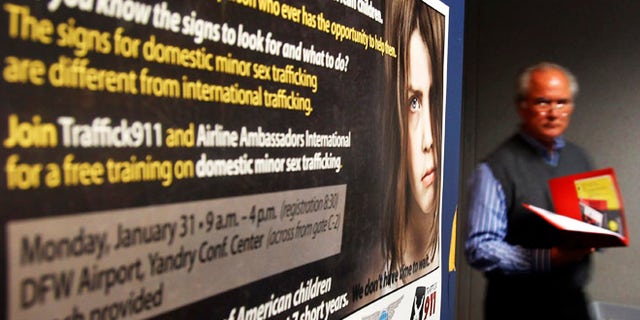 The Super Bowl features plenty of parties, bands and good times every year, wherever its played. But the big game also has a darker side, law enforcement officials say -- a significant spike in sex trafficking in the host city and the neighborhoods that surround it.
"Large sporting events tend to increase the demand for prostitution," David Bastone, president and co-founder of the anti-sex-trafficking organization Not For Sale, told FOX411.
"Traffickers and pimps take advantage of the opportunity and often recruit and force young girls into the trade. Many are coerced, come from vulnerable backgrounds and could be giving a large percentage back to their pimps who control them.
"This industry preys on the vulnerable and booms when hundreds of thousands of tourists flock to a city for major sporting events."
With thousands descending upon the New York metropolitan area ahead of Sunday's Super Bowl XLVIII showdown between the Seattle Seahawks and Denver Broncos in New Jersey's MetLife Stadium, there are concerns that the Garden State's highway system and its dense and diverse population will provide the perfect platform for sex traffickers.
In late 2012, New Jersey established a task force to try to stay ahead of the curve. Authorities have conducted training for a large number of police, students, and employees to identify signs of sex trafficking and how to react to them.
The attorney general recently obtained a $350,000 grant to provide care for victims, and New Jersey officials are not only working with the Division of Criminal Justice and FBI, but meeting with law enforcement officials from prior Super Bowl host cities to discuss the nature and depth of the problem.
But there is still some debate about whether sex trafficking actually surges leading up to a prominent sporting event like the Super Bowl, and some argue that the statistics have been largely overstated.
Tampa and Phoenix authorities told the Village Voice in 2012, in an article headlined "The Super Bowl Prostitution Hoax," that there wasn't a noticeably huge bump in prostitutes when those cities hosted the game.
And The Wire recently published an article titled "The Super Bowl Sex Trafficking Story That Just Won't Die," observing that the Global Alliance Against Traffic in Women (GAATW) — which has a vested interest in promoting this topic — said in a report that there's no correlation between sporting events and a rise in prostitution.
That would be news to Clemmie Greenlee, who said she was abducted and forced into the sex trade at age 12. Now 54, she gave an interview to the New Orleans Times-Picayune ahead of last year's Super Bowl. She said the first thing she was told before a Super Bowl was "how many you're gonna perform a day."
"You've got to go through 25 men a day, or you're going through 50 of them. When they give you that number, you better make that number," Greenlee said. "If you don't make that number (of sex customers), you're going to dearly, dearly, severely pay for it … with beatings, with over-and-over rapings. With just straight torture."
Officials maintain that the Super Bowl is, indeed, an annual draw for sex-traffickers, and they cite statistics such as these:
A multi-agency task force called "Operation Innocence Lost" made 85 arrests in the week leading up to last year's Super Bowl in New Orleans, charging two men with sex trafficking and rescuing five women allegedly brought in to prostitute against their will.
In Indianapolis in 2012, 68 commercial sex arrests were made during Super Bowl festivities, and at least two human trafficking victims were identified and recovered.
In 2011, more than 100 people were arrested for prostitution during Super Bowl weekend in Dallas.
In 2010, the National Center for Missing and Exploited Children estimated that more than 10,000 prostitutes were brought in to the host city of Miami.
In 2009, when the game was played in Tampa, Florida's Department of Children and Families reported 24 children as victims.
In 2008, Phoenix law enforcement officials dismantled a child prostitution ring involving several teenagers in the days leading up to the big game.
This year, the penalties for getting caught buying or selling sex ahead of Sunday's will be among the most severe in the country. With the Super Bowl in mind, the New Jersey Legislature last year passed one of the most stringent laws in the U.S. for countering the illicit sex trade. On May 6, Gov. Chris Christie signed the bipartisan "Human Trafficking Prevention, Protection and Treatment Act," which increases penalties for and provides additional resources to prevent human trafficking.
Yet a California-based escort who goes by the pseudonym Kristen Diangelo said none of that will make a difference. The Super Bowl is an event that, for many, calls for celebration, Diangelo said, and "while celebrating it is normal to want company, to not be alone. Thus increased demand, which means many will flock to the area."
If they do, New Jersey hopes it will make them pay dearly – and not for a prostitute.
Follow @holliesmckay on Twitter.