New documentary spotlights Willie Velasquez, an activist who pushed for Latino voting rights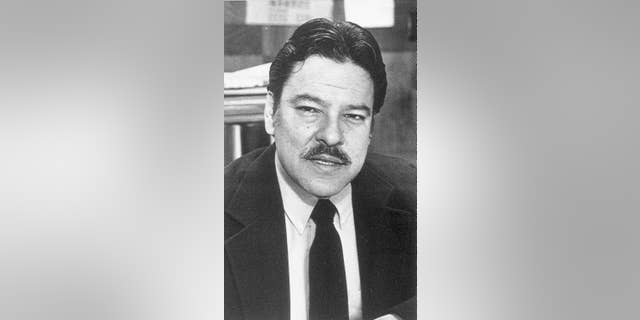 NEWYou can now listen to Fox News articles!
ALBUQUERQUE, N.M. (AP) – Willie Velasquez isn't as well-known as other Latino activists like Cesar Chavez, Dolores Huerta and Rodolfo "Corky" Gonzales.
But according to a new VOCES/PBS documentary airing next week, he was a key figure in developing the Latino voting bloc years before it became the nation's largest minority group and before both parties actively sought Latino voters' support.
Latino Public Broadcasting's "Willie Velasquez: Your Vote Is Your Voice" aims to bring attention to the voting rights advocate who came from San Antonio's poor west side and ended up rubbing elbows with the likes of President Ronald Reagan and Sen. Ted Kennedy. He persuaded Republicans in the 1970s and '80s to reach out to Hispanics because of the growing Latino voter-registration numbers in swing districts.
Velasquez might have done even more to foster Hispanic political power if not for his sudden death at age 44.
"It feels like I've been working on his story for 30 years," said director Hector Galan, who interviewed Velasquez in 1983 at the height of his popularity in Texas. "And here it is."
An early protégé of the late U.S. Congressman Henry B. Gonzalez, a young Velasquez was mentored by the generation of Mexican-American activists who helped elect President John F. Kennedy. Velasquez saw how poll taxes and voter intimidation kept Mexican-Americans from the polls and sought to change that.
But Velasquez soon got swept up in the farmworkers movement in California led by Chavez and Huerta. He also became captivated by the radical Chicano Movement until leaders opted to form an ethnic-based political party called La Raza Unida.
Velasquez left organized politics and started the nonpartisan, nonprofit Southwest Voter Registration Education Project. The group's goal: register as many Latinos to vote as possible in Texas, New Mexico, Arizona, California and Colorado.
On a shoestring budget, Velasquez and his army of recruits went door-to-door to register Hispanics to vote despite efforts by local authorities and threats of violence to stop them. The group was one of the first to use technology to tally up registration rolls to keep track of potential political power in small towns and cities. That use of computers caught the attention of candidates searching for ways to attract new voters.
"It's an IBM," Velasquez bragged to a reporter on the technology the group used. "It isn't a Mexican computer."
By 1978, Sen. John Tower, the first Republican U.S. senator from Texas since Reconstruction, was engaging with Velasquez and cut a Spanish-language commercial that earned him 37 percent of the Latino vote. Former California Gov. Ronald Reagan and former Massachusetts Gov. Michael Dukakis soon contacted Velasquez during their bids for the U.S. presidency.
In addition, San Antonio elected Henry Cisneros, the city's first Hispanic mayor since 1835.
Velasquez realized early on that the only way for Latinos to gain political power was through the ballot box, Galan said.
In 1988, he was diagnosed with cancer. He had no health insurance, and doctors gave him less than four months to live. He lasted four weeks.
Lorenzo Cano, associate director of the Center for Mexican-American Studies at the University of Houston, said Velasquez influenced generations of activists who followed the idea of voting as power.
"Willie Velasquez: Your Vote Is Your Voice" begins airing on PBS stations Monday.
Like us on Facebook
Follow us on Twitter & Instagram