NBC pulls Donald Trump-inspired 'Law & Order:SVU Episode until after election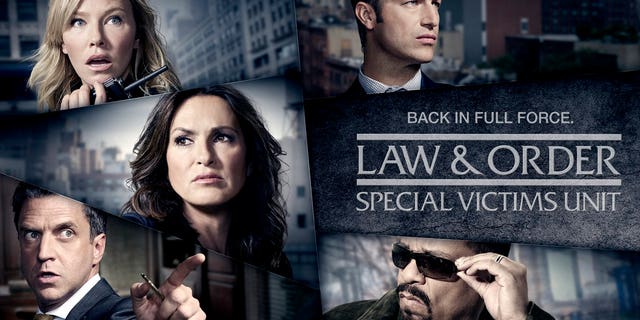 NBC has reversed course and benched a planned Donald Trump-inspired episode of "Law & Order: SVU" until after the election.
Sources said NBC brass and "Law & Order" franchise chief Dick Wolf made the decision Friday afternoon amid the extraordinary atmosphere of at least four women coming forward with stories of groping or sexual assault against the Republican nominee for president. Trump has steadfastly denied each of the women's accounts, accusing them of lying as part of a politically motivated effort to smear him in the final weeks of the fractious presidential race.
"Unstoppable" features a Donald Trump-esque character running for president who gets tangled up in a sordid case when several women come forward with damaging accusations. There are other elements of the storyline that make the episode extremely touchy to air in the current climate.
NBC and Wolf declined to comment.
NBC has been thrust into the thick of Trump's campaign through the Oct. 7 revelation of a 2005 audio outtakes from a 2005 "Access Hollywood" segment that captured Trump making lewd comments about women and bragging about using his celebrity to force himself on women. That recording sparked outrage nationwide and defections of numerous GOP leaders from supporting his candidacy.
But NBC sources insist the decision to bench "Unstoppable" was motivated by the charges and countercharges flying during the past two days. Attorney Gloria Allred held a news conference Friday with a former contestant of Trump's NBC reality show "The Apprentice" who asserts that he tried to force himself on her during a dinner meeting in 2007.
Two other women went on record with the New York Times about stories of aggressive groping incidents earlier this week. A veteran entertainment writer went on record with a first-person account for People magazine about being kissed without consent and harassed by Trump during an interview in 2005.
"Unstoppable" was written months ago and completed production more than a month ago, long before the sexual assault allegations against Trump began to steamroll. But the episode has been a hot potato for NBC from the start.
Gary Cole stars as a character described by a source as a wealthy and boorish man who makes a run for the White House. Aspects of the story were said to be inspired by the civil lawsuit pending in federal court in New York against Trump by a woman who alleges he raped her when she was 13 in the mid-1990s. Trump's attorneys have vehemently died the allegations by the woman identified in court documents as Jane Doe.
"Unstoppable," penned by "SVU" veteran Julie Martin and showrunner Rick Eid, has been highly scrutinized internally at Wolf Entertainment, home of "SVU," and by NBC brass. Sources said the episode was envisioned by the writing team as airing as the second installment of the "SVU's" 18th season, which opened Sept. 21.
The episode is said to have undergone story adjustments along the way, believed to have softened the portayal of the character, changes that raised eyebrows among some "SVU" writers and actors.
Last month NBC formally scheduled "Unstoppable" to air Oct. 12 but then took it off that date. At one point the episode was believed to be bound to air on Nov. 9, the day after Election Day. On Tuesday, NBC confirmed it would air on Oct. 26. The shuffling of dates is said to have forced some quick insert shots to deal with continuity conflicts once the show was pulled out of its planned rotation. NBC has not yet set a new date for the episode, sources said.
There had been concern among some "SVU" veterans on the show that keeping the episode from airing until after the election would have been a politically motivated decision. A source close to the situation noted that "SVU" episodes that hew closely to real-life characters, particularly political figures, usually come in for extra scrutiny for tone and fairness, even in a fictionalized setting.
"Unstoppable" also features guest stars Peter Gallagher, Currie Graham, Meredith Travers and Bianca Amato.
Given the events of the past two weeks, the final decision was made that the entertainment side of NBC did not want to appear to viewers to be taking a position on Trump's guilt or innocence amid the cascade of allegations from women. That call will no doubt become yet another polarizing decision in a presidential race that has bitterly divided the nation and an unconventional candidate that has defied all expectations of political campaigning in his quest for the White House.