Naked truth? YouTube says Justin Timberlake's topless dancer video is art, Robin Thicke's is not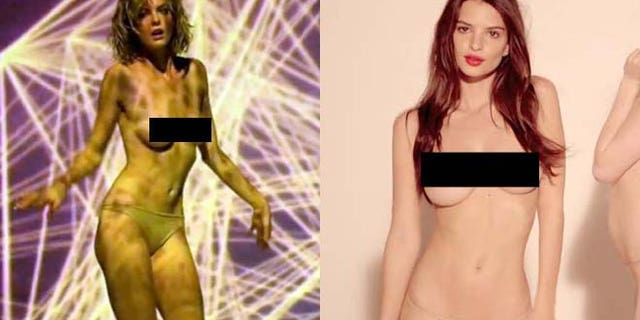 LOS ANGELES – Who knew YouTube was an art critic?
Justin Timberlake's controversial video for "Tunnel Vision," featuring topless models wearing flesh colored thongs, writhing around seductively to the sound of his voice, was briefly banned from YouTube after its debut last week, only to be quickly reinstated with a proof-of-age login.
Why?
Apparently, its art.
While YouTube has stringent guidelines forbidding nudity, particularly "if it is intended to be sexually provocative," the Google-owned site awarded Timberlake artistic exception.
"We make exceptions when it is presented in an educational, documentary or artistic context, and take care to add appropriate warnings and age-restrictions," a YouTube representative told FOX411's Pop Tarts column.
Which is all fine and dandy, until you consider the video for Robin Thicke's "Blurred Lines." Thicke's racy video, which debuted a few weeks ago, also features topless female models wearing flesh colored undies, while the men remain suited up, very much like in the "Tunnel Vision" clip.
However, Thicke's video was not granted the same "art" stamp by YouTube. His uncensored music video was black-listed by the video sharing site.
Across the web, many questioned YouTube's apparent double standard.
"I guess Google considers Timberlake a capital-A Artist, they don't feel the same about his more direct-to-DVD doppelganger Robin Thicke," wrote a Boston.com blogger, pointing out that both videos were based on the same concept of partially nude women and occasional projections of the song's visually-impaired title. "Why is Timberlake's video considered artistic, and exempt from a ban, but Thicke's is not? They basically seem like the same video, albeit by two artists with very different levels of success."
According to Grantland.com, "Blurred Lines" was no more offensive than all the other videos that utilize attractive women as eye candy.
"The nudity in 'Tunnel Vision' is artistic, sure, but it's also super silly. Justin's face is projected onto the dancers' bodies, and one shot of his face looking rather like a Picasso (baby) when superimposed on the girls' backs looks just like that tacky Pink Floyd dorm poster," continued the site's assessment.
Ronn Torossian, CEO of 5WPR, said that's just how it goes.
"Different artists can get away with different things," he said "Even for celebrities, life isn't always fair."
But according to communications guru Glenn Selig, the forces behind YouTube may have also considered the controversy behind "Blurred Lines." With lyrics like "I know you want it/But you're a good girl/The way you grab me, must wanna get nasty," some said the song condoned rape.
"Videos that take nudity and attach statements about rape, like Robin Thicke did, add a whole other dimension of controversy. It's not only about images. It's about messaging," communications guru Glenn Selig told us. "Videos with nudity that legitimize or glamorize rape clearly have no place on YouTube. The bottom-line difference is how YouTube believes the public will react."