MTV Video Music Awards keeps it clean for once; Kristen Stewart a no-show for 'Twilight' segment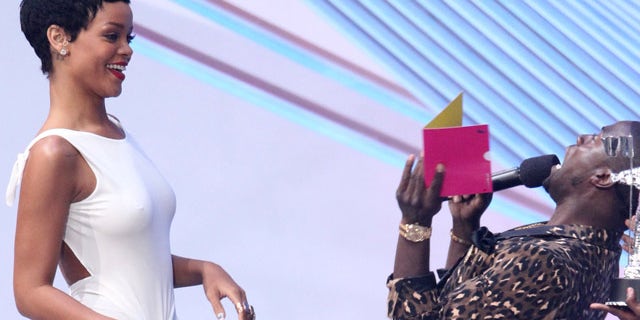 In years past, the MTV Video Music Awards have become more and more about shock value, sexy stunts and plain jaw-dropping PR maneuvers.
We've seen Madonna, Britney Spears and Christina Aguliera lock lips, Kanye West steal an award from Taylor Swift, Lady Gaga don a meat dress, Beyonce debut her baby bump, Sacha Baron Cohen plant his bare butt on Eminem's face, Lil' Kim broadcast a bare boob which was later jiggled on-stage by Diana Ross, Marlon Wayan moon the audience, and host Russell Brand call then-President Bush a "retarded cowboy."
But cut to 2012 and the show, live from the Los Angeles Staples Center on Thursday night, saw a return to what MTV was once all about: the music.
Aside from a the occasional curse word, this year's host Kevin Hart kept the content clean with cheesy backstage videos and light-hearted discussions about various artists. In fact, the most raucous the show got (with the exception of underwear-showing Lil Wayne and his bleeped out performance with 2 Chainz) was when Hart decided to discuss the recent scandal involving Kristen Stewart's affair with Rupert Sanders, the married director of "Snow White and the Huntsman."
"If she did, so what? It's over. Move on," Hart quipped in her defense, joking that she's now become the adultery dwarf.
The "Twilight" cast -- conveniently sans Stewart, who is in Toronto for its film festival -- later gave the audience a sneak peak of what to expect come November by introducing a 90-second clip from "The Twilight Saga: Breaking Dawn - Part 2."
However, the awards show centered on an impressive lineup of fun, music-driven performances from the likes of Rihanna, Alicia Keys, P!nk, Green Day, Taylor Swift, Frank Ocean and One Direction, all of who got the crowd pumping with their catchy tunes and vibrant stage presence. Drawing one of the largest applause of the night was gold medal winning gymnast Gabby Douglas, who wowed and inspired with her flips and dips. And yes, no nip slips or naughty words were needed from any of the above to entertain the masses.
But perhaps the biggest surprise of all was that the VMAs (despite the fact that they aired the same night as President Obama's speech at the Democratic National Convention, with the show opening with a campaign-like segment to introduce Hart) managed to avoid any candidate bashing.
"It's in our hands," was all Hart said as he closed out the show, imploring Americans to make sure they vote in the forthcoming Presidential election.