MSNBC star Chris Hayes says 'significant chunk' of Trump voters are racists like Roseanne Barr
NEWYou can now listen to Fox News articles!
MSNBC host Chris Hayes went after Trump supporters Tuesday when he took to Twitter to offer his thoughts on ABC firing Roseanne Barr for making a racist comment, saying her xenophobic worldviews represent a "significant chunk" of the president's base.
On Tuesday, ABC pulled the plug on the wildly popular reboot of "Roseanne" after its namesake posted a racist and offensive tweet about former President Obama's aide and close friend Valerie Jarrett. Barr wrote that Jarrett, who is African-American and was born to an American couple living in Iran, is like the "muslim brotherhood & planet of the apes had a baby."
Hayes, who hosts MSNBC's 8 p.m. show "All In," felt that Barr was behaving the way elite liberals envision Trump supporters behaving.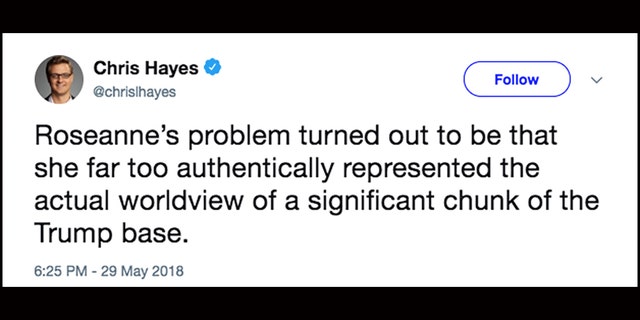 "Roseanne's problem turned out to be that she far too authentically represented the actual worldview of a significant chunk of the Trump base," Hayes wrote.
A follower responded that Hayes is "better than this sort of cheap snark," before MSNBC contributor Josh Barro asked, "Is it unfair to suggest that racist, looney tunes conspiracy theories were a key way that Trump bonded with enough Republican voters to win a presidential primary?"
Hayes responded that Barr is "closer to a repeat Trump rally-goer than a median Trump voter." The MSNBC star was mocked by Trump supporters for the comment. One wrote, "This type of broad statement can't end well for Democrats. Similar to 'deplorables,' but by all means keep it up," while another added, "You're one simple-minded man."
Conservative commentator Ben Shapiro quoted Hayes' tweet and added, "This is how you got Trump."
Despite the backlash, Hayes' tweet has been favorited over 54,000 times by his 1.63 million followers.
Hayes on Tuesday co-moderated a town hall event on racism with fellow MSNBC star Joy Reid, who recently made headlines for claiming that homophobic posts on her pre-fame blog were planted there by diabolical hackers. Reid joined Hayes on "All In" prior to the event to discuss the "Roseanne" situation.
Hayes called Barr's comments "explicit rhetoric of bigotry," which resulted in Reid blaming President Trump for allowing racist people to speak openly.
Barr portrayed a pro-Trump character in the now-canceled show's reboot that touched on a variety of provocative topics such as the fictional family being scared of Muslim neighbors and infighting over the 2016 election. Barr's political views caused a headache for ABC despite many crediting the 65-year-old's pro-Trump stance as the reason for the show's massive success.
A variety of Barr's co-stars condemned her racist tweet and ABC Entertainment President Channing Dungey announced in a statement on Tuesday that the network would not be producing the show's second season.
"Roseanne's Twitter statement is abhorrent, repugnant and inconsistent with our values, and we have decided to cancel her show," Dungey told Fox News.
MSNBC did not respond to a request for comment.
Fox News' Sasha Savitsky contributed to this report.