Monica Lewinsky reveals Bill Clinton urged her to lie under oath: 'I did feel uncomfortable about it'
Monica Lewinsky has opened up for the first time about how Bill Clinton convinced her "to break the law" and lie under oath.
In the final part of the A&E docuseries "The Clinton Affair," Lewinsky revealed that Clinton convinced her to deny the affair if she was called to testify in the Paula Jones case. The 45-year-old recalled the former president telling her that she could avoid being deposed if she denied the affair in an affidavit.
Lewinsky said that Clinton had called her at 2:30 in the morning to let her know that she was on the witness list for the Paula Jones case.
MONICA LEWINSKY SAYS SHE WAS 'GUTTED' AFTER BILL CLINTON LABELED HER 'THAT WOMAN' IN DOC: 'I FELT ANGER'
"I was petrified. I was frantic about my family and this becoming public," Lewinsky tearfully recalled. "Thankfully, Bill helped me lock myself back from that and he said I could probably sign an affidavit to get out of it, and he didn't even know if a 100 percent I would be subpoenaed."
She was subpoenaed a few days later.
And though she clarified that Clinton never said the words "you're going to have to lie here," Lewinsky pointed out that he also never said "we're going to have to tell the truth."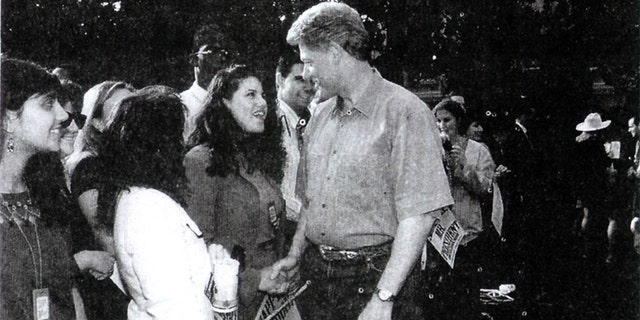 After being subpoenaed, the former White House staffer decided to talk to attorney Vernon Jordan, a close friend of Clinton. In the documentary, Lewinsky claims that she managed to secure a meeting with Jordan on her own and from that meeting, she was introduced to lawyer Frank Carter.
"Frank Carter explained to me if I'd signed an affidavit denying having had an intimate relationship with the president it might mean I wouldn't have to be deposed in the Paula Jones case," she recounted. "I did feel uncomfortable about it but I felt it was the right thing to do, ironically, right? So, the right thing to do, to break the law."
Following her decision to sign the affidavit, Clinton called Lewinsky to the White House for a somewhat private Christmas celebration.
'LOST TAPES' FROM BILL CLINTON, MONICA LEWINSKY YEARS REEMERGE IN NEW DOCUMENTARY
"This is the first time I met Buddy, the dog, and we kind of all played around with Buddy in the office and then we went into the back study and we had a Christmas kiss," the Vanity Fair writer revealed.
She continued: "Over the summer he had gone to Martha's Vineyard and he brought back a bunch of different things. He had this big canvas bag from the Black Dog. This marble bear, sunglasses. It was the most presents he'd given me at one time. He knew the subpoena was gonna ask to produce certain items and yet he was giving me more gifts. He clearly still trusted me."
Lewinsky added that at the time, she gave the president's gifts to his secretary for safekeeping and to avoid possible seizure.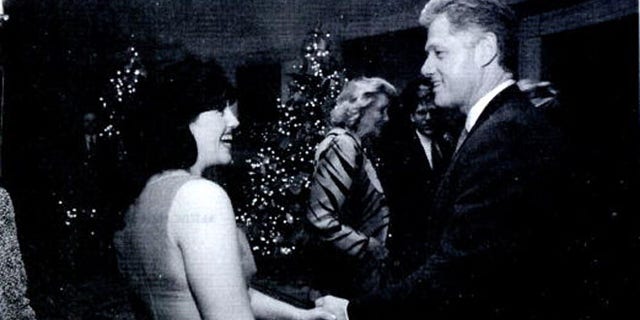 While things seemed to be getting back to normal, it wasn't long before everything went downhill for the former White House intern.
Once it was discovered that Lewinsky was having an affair with Clinton, the FBI forced the young staffer to be part of the bureau investigation into the president.
Scared and unsure what to do, the activist recalled how the FBI threatened to prosecute her mother and said that both women could face up to 27 years in prison for lying about the affair.
A then-24-year-old Lewinsky demanded to call her mother while she was being held inside a Ritz Carlton hotel room for what was a 12-hour interrogation.
"You're 24, you don't need to call your mommy, you need to make a decision about what to do," Lewinsky recalled one agent told her.
Unwilling to immediately cooperate with the FBI, the young staffer finally told them that she demanded to speak to either her mother or her lawyer before making the decision to wear a wire and have her personal life monitored and tapped.
But once the word of the affair was out in the open, Lewinsky admitted that the scandal was almost too much for her to handle and revealed that she contemplated committing suicide.
"There was a point for me somewhere within these first several hours where I would be hysterically crying and then I would just shut down," she admitted. "And in the shutdown period, I just remember looking out the window and thinking the only way to fix this is to kill myself."
An FBI agent who was involved in the case corroborated her emotions at the time and said she was "alternating between being hysterical, being angry, being abusive."
"I just felt terrible ... and I was scared ... and I was mortified,' she said while trying to regain her composure," Lewinsky sobbed in her documentary confessional.
She also confessed that the taxing events of the scandal are what led her to confide in Linda Tripp, who eventually drew the prosecution to the fact that Clinton was indeed having an affair.