Miranda Lambert kicks heckling fan out of show
Miranda Lambert is proud to be Anderson East's girlfriend -- at least, that's what her latest "Keeper of the Flame" tour ensemble seems to be telling us!
The "Vice" singer performed at the Irvine Meadows Amphitheatre in Irvine, California, on Friday, donning a black T-shirt with her rhythm and blues musician beau's name emblazoned in a bold, white font. She styled the top with denim cut-off shorts, bedazzled silver belt, sexy fishnet stockings and her signature cowgirl boots.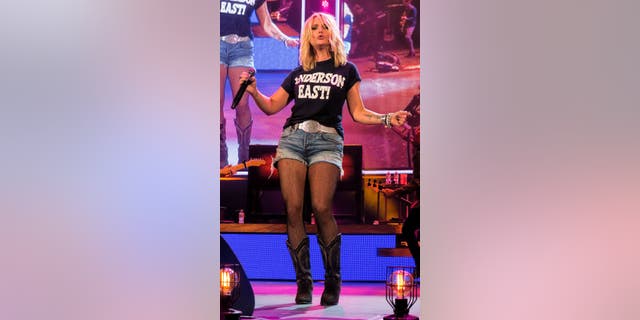 WATCH: Miranda Lambert Spends Her Day Off With Anderson East on the Farm
While most concertgoers were supportive of the cute tee, there was apparently one in the crowd who felt the need to diss her, yelling out, "Gwen Stefani." (Yep, the name of the woman that Lambert's ex-husband, Blake Shelton, is famously dating.)
Lambert, who called it quits with Shelton last July, seemed to pay no mind to the haters, however. At one point in the show, she even kicked out two men for being rude, according to Nashville Gab.
NEWS: Miranda Lambert Nails First Live 'Vice' Performance
After the concert, fans gave Lambert's badass move their stamp of approval via Twitter.
WATCH: Miranda Lambert Breaks Down in Tears While Performing Song Written With Blake Shelton
You go, girl!