Miley Cyrus flashes behind on 'Today' performance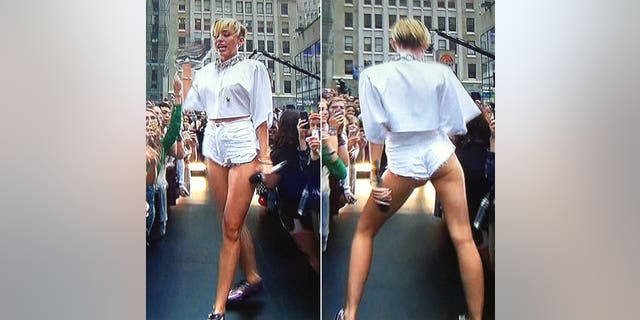 Miley Cyrus opted for an all-white ensemble when she performed in Rockefeller Plaza on the "Today" show in NYC on Oct. 7, where she put her butt cheeks on full display in a pair of shorts that barely covered her backside.
From the front it almost appeared as if the 20-year-old was dressed quite conservatively for her early morning performance, however that clearly wasn't the case when she turned around and flashed her butt cheeks to the world.
Her billowing white crop top allowed her to flaunt her toned tummy and she dressed up the get-up with a statement necklace. She stuck to an all-white theme, pairing the loose top with a seriously short, tight pair of white denim shorts — in fact, the high-waisted bottoms were higher than they were long.
Now that's a lot of cheek before 9AM.