Michelle Rodriguez says she was jealous that Paul Walker died first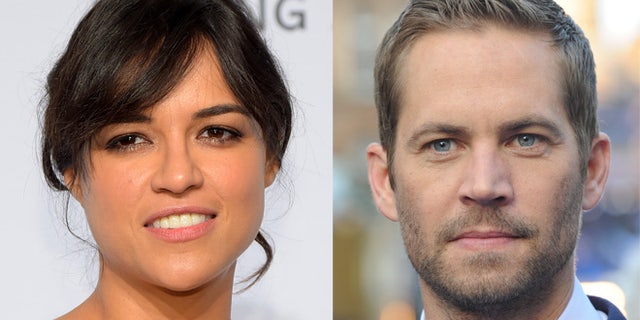 Michelle Rodriguez has been open about her grieving process after the unexpected death of co-star and friend Paul Walker, but her most recent revelation is probably her most personal.
Rodriguez revealed in the controversial documentary "The Reality of Truth" that while under the influence of a psychedelic plant called Ayahuasca – native of Peru – she realized that she was jealous of Walker for leaving her behind.
"I have to say, you know, when I lost Paul, I went through about a year of just being an animal," the actress said in a clip obtained by TMZ. "Like, what could I do, physically, to just get my mind off of existentialism? Get my mind off of how transient life is and how we come here and can just disappear at any moment. How could I get my mind off that?"
She added that the summer after Walker's death she went crazy.
"I did everything I could possibly do to hide from myself and I'll tell you that my Ayahuasca trip made me sad that he left me here," Rodriguez added. "It wasn't a sadness that he's gone, it's more like a jealousy that he's there first."
According to TMZ, Rodriguez did the interview just weeks after being under the influence of Ayahuasca.
According to the film's website, Rodriguez joined host Mike "Zappy" Zapolin to explore the "relationship between spirituality, religion and psychedelics." It was during a visit to Peru that she tried the psychedelic plant.
Rodriguez previously revealed that she went on a "bit of a binge" after Walker's death in 2013.
"I went crazy a little bit… I went pretty crazy. A lot of stuff I did last year I would never do had I been in my right mind," she told Entertainment Weekly. "I was pushing myself to feel. I felt like nothing I could do could make me feel alive, so I just kept pushing myself harder and harder. I was traveling and I was having sex. And I was just trying to ignore everything that I was feeling."
She added: "I could see Paul once every two years and just know there was another human on the planet who's deep like me, who loves like that. When that disappears, you wonder, 'Wait a minute, what do I hold on to?' There was nothing to tether me to this existence: 'Why am I f***ing here? And, like, why'd you leave without me?'"