Michael Jackson's Mother Sues Concert Promoter in Pop Star's Death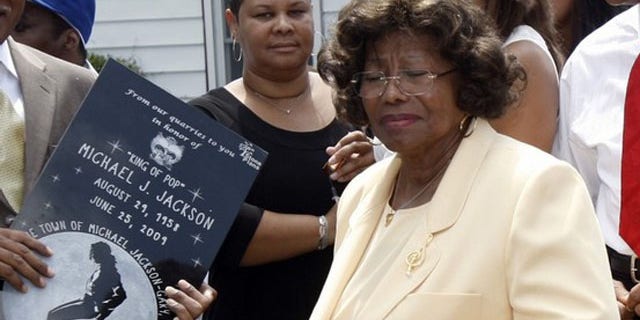 LOS ANGELES -- Michael Jackson's mother sued a concert promoter Wednesday alleging the company failed to provide life-saving equipment and oversee a doctor who was hired to protect the pop star's well-being as he prepared for what were intended to be his comeback concerts.
The lawsuit was filed against AEG Live in Los Angeles County Superior Court.
The suit contends AEG and its agents told Jackson the company would provide the equipment and hire Dr. Conrad Murray to care for Jackson so he could perform at the concerts in London.
"AEG's representations to Jackson were false because in reality AEG was merely doing whatever it took to make sure that Michael Jackson could make it to rehearsals and shows and AEG did not provide a doctor who was truly looking out for Jackson's well-being and did not provide equipment," the lawsuit states.
AEG spokesman Michael Roth said the company has not seen the lawsuit and had no immediate comment.
AEG Live President and CEO Randy Phillips said soon after Jackson's death in June 2009 that Murray was enlisted to act as Jackson's personal physician and was to be paid $150,000 a month by AEG Live as the singer prepared for the concerts.
However, Jackson died before signing the agreement. As a result, Phillips said the agreement was not binding.
The suit also said AEG Live was responsible for the actions of Murray in the care of Jackson. Murray, however, was not named as a defendant in the lawsuit.
"At the time of his death, Michael Jackson was under the immediate care of a doctor selected by, hired by, and controlled by AEG; indeed AEG demanded and required that Michael Jackson be treated by this particular doctor to ensure that Michael Jackson would attend all rehearsals and shows on the tour," the complaint states.
Murray has pleaded not guilty to involuntary manslaughter in Jackson's death at age 50. Police said Murray gave Jackson an overdose of the anesthetic propofol.
Katherine Jackson, who is the guardian of the singer's three children, also sued on their behalf.
The suit claims Jackson's eldest son, Prince, suffered great trauma and severe emotional distress because he witnessed his father's final moments.
The lawsuit seeks unspecified damages.
The comeback concerts in London sold out in anticipation of Jackson's return as the "King of Pop."
Despite years of self-imposed exile, he retained a huge, loyal following of fans overjoyed at the prospect of seeing him reclaim the glory he'd attained with albums like "Thriller" and songs like "Beat It!" and "Billie Jean."