Michael Douglas talks family, mortality after 'Candelabra' Emmy win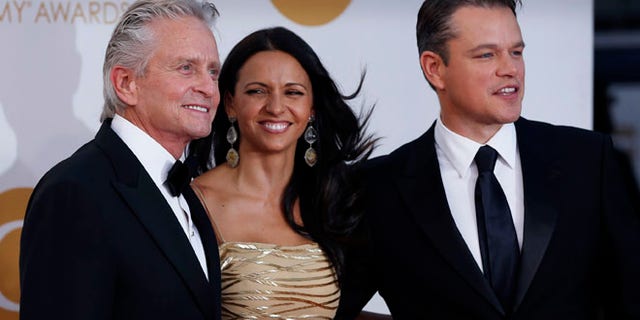 It was Michael Douglas versus Matt Damon in the race for best actor in a miniseries for HBO's "Behind the Candelabra," and ultimately Douglas walked away with the Emmy for his portrayal of Liberace in the biopic. But, the veteran actor was not willing to take home the trophy without offering deserved gratitude to his co-star.
"Matt, I've known him for awhile," Douglas told reporters in the media room. "I've admired him from early on, with 'Good Will Hunting,' and he did 'Oceans 12' with my wife. We spent a lot of time together then. He's the kind of guy I like — no B.S., great work ethic…I said to him, 'You looked at the script, right?' and he said 'Yep,' and I said, 'Let's go!'
Douglas' remarks to the media backstage took a somber turn as the actor discussed his relationship with his son Cameron, who is currently serving time in federal prison on drug-related charges.
"He's been a drug addict for a large part of his life," Douglas said. "If you happen to have a slip as a prisoner who is non-violent…they punish you. So in my son's case, he's spent almost two years in solitary confinement. Right now I'm being told I can't see him for two years. It's over a year now, and I'm questioning the system. At first I was disappointed in my son, but I've reached the point where I'm very disappointed in the system…The United States represents 5 percent of the world's population, and we have 25 percent of the world's prisoners."
"Behind the Candelabra," a both glamorous and emotional portrayal of Liberace's affair with a young man named Scott, had "special meaning" to Douglas.
"One day, I was dealing with mortality issues with my cancer. The next day, this jewel was handed to me with Steven and Matt. Then I have to thank them for waiting another year because I wasn't up to speed physically. But it gave me time to absorb Li, and the incredible qualities he had."