Pin-thin actresses have Emmy watchers wondering: Is skeleton the new skinny?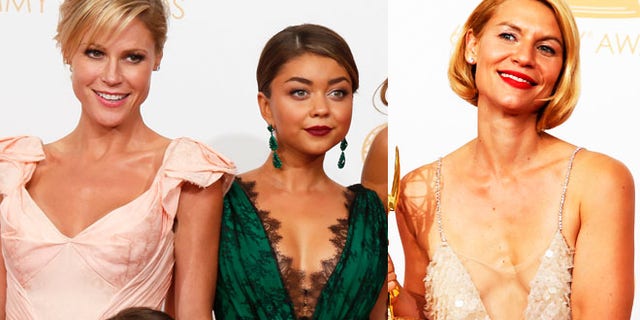 NEWYou can now listen to Fox News articles!
LOS ANGELES – Eat a donut!
There were plenty of beautiful designer dresses gracing the 65th Emmy Awards on Sunday night, but much of the expensive material was overshadowed by the bones on display, and viewers weren't exactly impressed.
In particular, "Modern Family" sensation Julie Bowen, who just two Emmys ago said she wanted to look a little more curvy and feminine, admitted on the red carpet this year to "starving" herself in an effort to fit into her Emmys dress. And she had some distinct collarbones to prove it.
"Refreshing honest but sad nevertheless," one tweeted in response, as another weighed in: "Nice message about body image."
Scores of others drew disturbed attention to "Breaking Bad" winner Anna Gunn's undeniably lithe frame in her black and white strapless ensemble.
"Skyler looked so skinny at the Emmys. Need to lay off that meth, girl!" exclaimed one fan in reference to her character, as others wrote: "Woah, Anna Gunn is so skinny... What happened?"
And it might be hard to believe that Claire Danes has a nine-month-old son at home, given her teeny tiny frame in a sparkly flesh colored number - complete with visible chest and back bones.
E! Fashion Police host Giuliana Rancic also prompted raised eyebrows in her form-fitting, strapless corn flower blue dress by Mikael D.
"Giuliana needs a filling meal," observed one telecast watcher via Twitter, as others urged the TV personality urged her to "eat ice cream. Or anything."
Viewers also went on to lament the itty bitty bodies worn by the likes of Rose Byrne and even a leaner-than-usual Tina Fey, while scores of others concluded that majority of the actress attendees in general all could do with at least a little pound packing.
"Damn these women are skinny! Bums me out that Hollywood is so thin obsessed," wrote one viewer, another observed that there was "too much starvation on the red carpet" and urged the actresses to "run to in-and-out burger," and another quipped: "I'm used to seeing skinny Hollywood actresses, but the images I'm seeing on twitter from the Emmys are shocking. Eat something!"
According to style expert Michael Cohen, the red carpet looks are lock-step with this year's fashion week trends.
"There was a lot of bone showing dresses this year but that shouldn't be any surprise because that's what was on the fashion runways and that's what stylists turn to when dressing celebrities for the res carpet," he added. "Unfortunately, it doesn't always translate to a desirable red carpet look as in this years Emmy's, but then again this is the entertainment business which is supposed to be salacious."