Michael Douglas lied about kind of cancer he had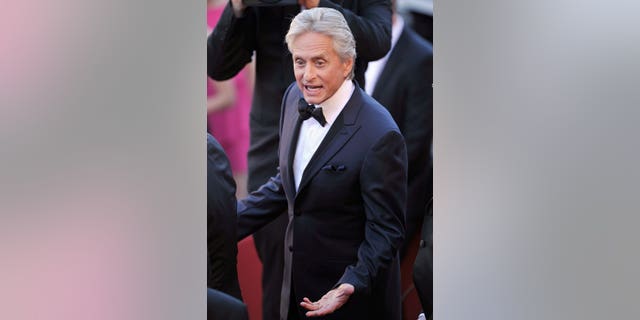 In a new interview, Michael Douglas said he was not telling the whole truth when he announced in August 2010 that he had stage IV throat cancer.
The 69-year-old actor shocked the world in August 2010 when he revealed that he had advanced-stage throat cancer. But on Oct. 10, more than three years later, he made another revelation — that he actually had tongue cancer.
Douglas admitted that he knowingly deceived the press and public about his health during an interview with Samuel L. Jackson on a Male Cancer Awareness special edition of the UK talk show "This Morning."
"This was right before I had on a big tour for Wall Street, so we kind of said there's no way we can cancel the tour and say we don't feel well," Douglas told Jackson. "You've got to tell them. I said you've just got to come out and just tell them I've got cancer and that's it."
But Douglas says his doctors warned him that he may not want to reveal that he had a disease with such a negative prognosis, especially on the heels of a huge movie press tour: "The surgeon said let's just say it's throat cancer. I said, "OK, you don't want to say it's tongue cancer?" I said, "Why's that?" and he said, "Well if you really want to know why, if we do have to have surgery it's not going to be pretty. You'll lose part of your jaw and your tongue and all that stuff." So I said, "OK, sure."
The actor seemed to suggest that he didn't want to get into the grotesqueries of his disease — and discuss the possibility of losing part of his face — so they decided to disguise the truth.
Everything about Douglas having cancer, and it being in Stage IV — the most advanced stage — is true, he said. He described the moment he found out about his diagnosis: "I will always remember the look on his face. He said, "We need a biopsy." There was a walnut-size tumor at the base of my tongue that no other doctor had seen."
The survival rate of throat cancer is about 90 percent if detected early enough, according to the U.S. National Library of Medicine, while the survival rate of tongue cancer is approximately 85 percent, according to the National Cancer Institute.
The chances for tongue cancer to malignantly spread to other places in the mouth, including the throat, are also higher. And like Douglas said, the surgery required to deal with tongue cancer can be more extreme.
As time goes on, our perception of Douglas' disease seems to be ever-changing. He revealed in June 2013 that his cancer was caused by contracting HPV from oral sex, though one of his reps later stated that his remarks had been taken out of context.