Mexican singer arrested over video depicting violence against women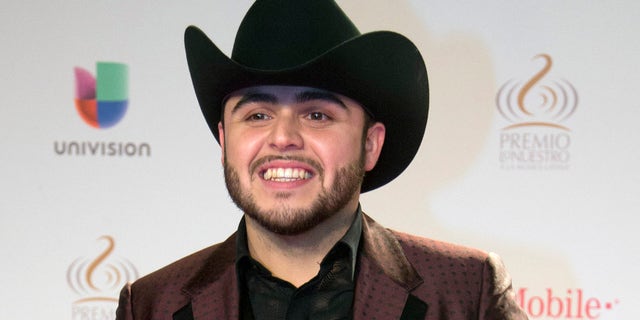 NEWYou can now listen to Fox News articles!
A Mexican norteño singer who depicted graphic violence against a woman in a controversial music video has been arrested because of it.
According to El Universal, Gerardo Ortiz, who was arrested Saturday night by Mexican federal police at the Guadalajara Airport just days after an arrest warrant was issued. He was charged with "criminal exaltation" for his controversial music video "Fuiste Mia."
The music video depicts Ortiz finding his female companion in bed with another man. Enraged, he shoots the man in the head, ties the woman up and locks her in the trunk of a car. When police close in on him, he lights the vehicle on fire.
According to published reports, the video was filmed at a home linked to drug trafficking.
The video generated more than 30 million views on YouTube before it was taken down.
Last week, the Mexican government issued a formal warrant for Ortiz's arrest and also for the arrest of the video's producer.
According to El Universal, Ortiz was arrested while waiting for his luggage at the airport. He had presented his U.S. passport as an ID and was taken into custody by officers aware of the warrant. The singer posted a $2,700 bail on Sunday.
At a press conference in April, Ortiz defended the clip saying it was "pure fiction." He compared it to content that is seen in movies and TV shows on a regular basis.
"No one in this video is really dead. This is all fiction. I wanted to be the actor in this video. Gerardo Ortiz the singer has nothing to do with the actor you see in the video," he explained at the time, according to Billboard.
"No offense, but it's a good thing that all the organizations that defend women's rights have been able to use these platforms to get their message across and defend their rights.
According to Billboard, "Fuiste Mia" has been rising steadily on the charts. Ortiz is currently on tour and is a judge of the Mexican TV reality competition, "Tengo talent, mucho talento" ("I Have Talent, A lot of Talent.")