Meghan Markle's first royal gala speech featured an awkward moment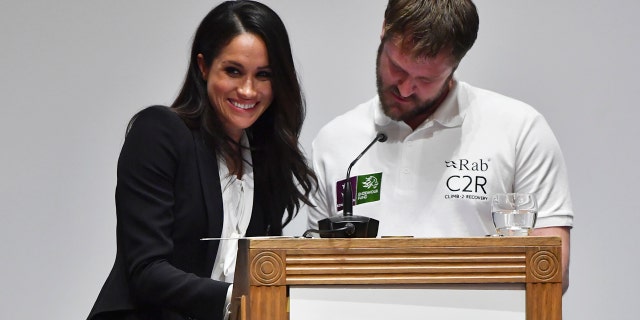 Meghan Markle attended her first formal gala on Thursday and the actress didn't escape without an awkward moment.
The former "Suits" star gave her first public speech as a soon-to-be member of the royal family at London's Endeavour Fund Awards, but Markle's first presentation had a somewhat uncomfortable pause.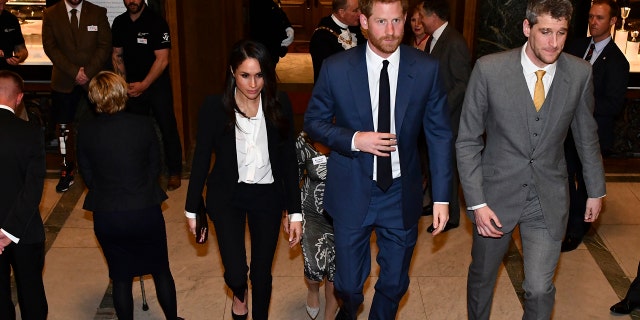 Markle took to the podium at the royal family's charity gala to present one of the honorable Endeavour Fund prizes to the nominated wounded servicemen and women.
"I'm truly privileged to be here," Markle said confidently from the stage before presenting the evening's second award to Royal Marin veteran, Daniel Claricoates, who, according to USA Today, battled post-traumatic stress and "now works with children, assisting them to foster their own spirit of adventure through the Duke of Edinburgh's Awards Team."
But her confidence quickly went away when Markle handed off the mic to her co-presenter, who struggled to find his mark in the speech papers, sparking awkward giggles from the audience. At first, Markle appeared to be somewhat uncomfortable while she watched him fumble through the papers and waited for him to find his place, but then the soon-to-be royal rushed to her colleague's side to help him. During the minute of awkward page-flipping silence, Markle turned to the audience and gave an embarrassed smile, which enacted some laughter. Finally, Markle found the right mark and the speech and said, "right here," and the room erupted with cheers and applause once the speech continued.
Markle has broken several traditional protocols as an American coming into the family, and presenting an award at the Endeavour was yet another tradition Markle bypassed. The honor is normally reserved for members of the royal family, which technically Markle is not - yet.
Markle also ignored attire tradition by sporting a sleek, Alexander McQueen tuxedo suit to the gala. But the actress, who later went on to lead the evening's winners on stage at the end of the award ceremony, proved that she could wear a suit and royally recover from an awkward mishap like a pro.