Meet Jesse James' Self-Proclaimed Mistress: An Amish Med-School Student and Fetish Stripper Mom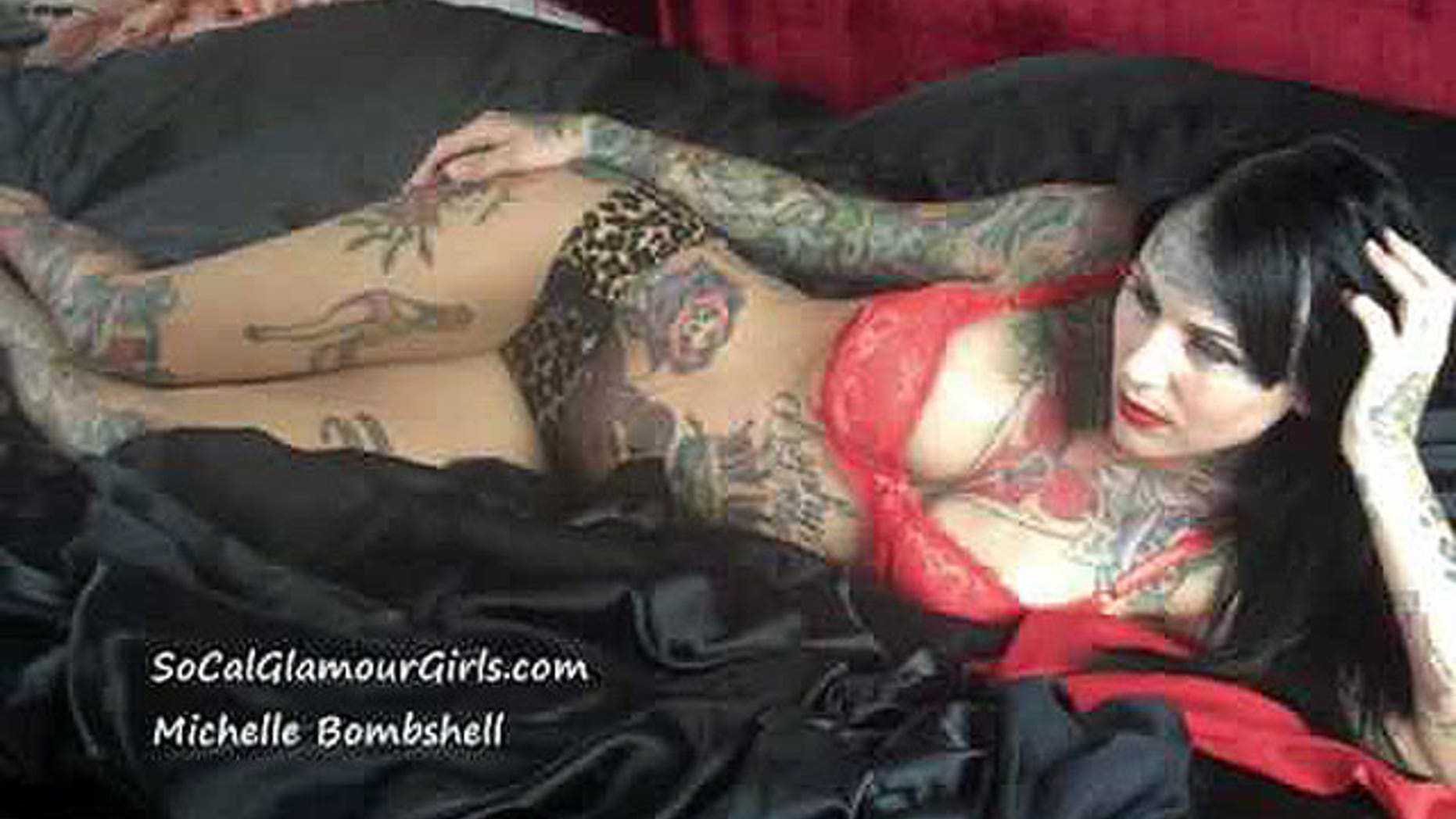 Tattoo model Michelle "Bombshell" McGee told In Touch magazine that she slept with Sandra Bullock's husband, "Monster Garage" star Jesse James, for nearly a year. McGee divulged that she and James had sex repeatedly while Bullock was shooting "The Blind Side" in 2009, claiming that James led her to believe that he and his wife were separated.
So just who is this inked-up minx? Some speculate that the Internet sexpot is only out for publicity, while others believe that she's the real deal.
FOX411: The 'smoking gun' texts McGee gave as proof of affair.
Michelle is featured on a site called SoCalGlamourGirls.com, where viewers can pay to see her on a Web cam, chat with her on the Internet, or ogle at her nude photos.
"I am the hottest busty tattoo and fetish model you will ever meet on a [Web]cam," her profile reads.
PHOTOS: More Michelle Bombshell.
She also claims to be a graduate student studying medicine.
On the site, McGee says that she's currently working on her Masters degree in biochemistry. Stating that she has a BS in biology, the Internet performer also claims to have completed two years of medical school. However, she's listed as just 24 years-old on the site.
SLIDESHOW: Sandra Bullock Was on Top of the World
Radaronline.com reported that McGee is a mother of two, has worked as a stripper at several San Diego clubs, and was most recently working the pole at Pure Platinum's Kearny Mesa after being fired from the Hustler club. "Avery" (her stripper name) is featured in the strip club's chilli cookoff promotional video.
FOX411: Did Jesse James Marry Sandra Bullock for Publicity?
But perhaps the most shocking detail to have emerged about McGee is that she was apparently raised Amish.
"My parents are very conservative," McGee reportedly said in her bio video for the 2009 "Miss Inked Contest."  She added that she grew up Amish and "left the church" at the age of 16. Her favorite tattoo is the one on her forehead that reads: "Pray for us sinners, because we are all sinners in life."