Matt Damon mounts defense of Hollywood males who aren't sexual predators
Matt Damon said on Monday that men in Hollywood who aren't sexual predators should be talked about more — comments that drew rebuke from celebrities just days after he was criticized for another statement about recent sexual misconduct allegations.
Damon told Business Insider, while promoting his new movie "Downsizing," that there was a "whole s—tload of guys" who aren't sexual predators that go unnoticed.
"We're in this watershed moment, and it's great, but I think one thing that's not being talked about is there are a whole s--tload of guys — the preponderance of men I've worked with — who don't do this kind of thing and whose lives aren't going to be affected," Damon told Business Insider.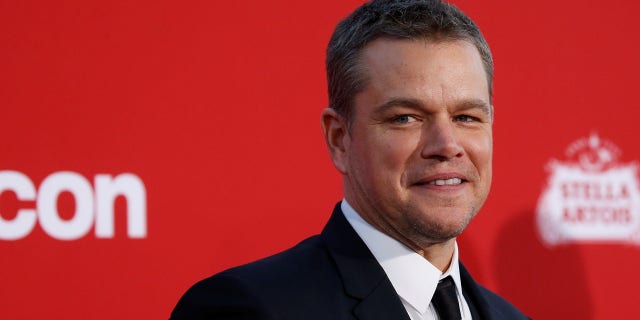 He added, "If I have to sign a sexual-harassment thing, I don't care, I'll sign it. I would have signed it before. I don't do that, and most of the people I know don't do that."
MATT DAMON SLAMMED BY EX MINNIE DRIVER OVER COMMENTS ABOUT SEXUAL MISCONDUCT
When asked if he would quit a movie if a Hollywood figure working on the project was accused of sexual misconduct, Damon responded: "I mean, I wouldn't want to work with somebody who — life's too short for that. But the question of if somebody had allegations against them, you know, it would be a case-by-case basis. You go, 'What's the story here?'"
Several celebrities, including Debra Messing and Rose McGowan, fired back at the 47-year-old actor for his comments.
"Matt Damon- SERIOUSLY? You are a smart man. A privileged, white man. This is NOT the time to ask for a pat on the back," Messing tweeted. "How about we NOT celebrate men who are simply decent human beings. Stay on track, Matt. It's not about you."
McGowan, who has been vocal about Harvey Weinstein's alleged sexual misconduct, also tweeted: "Matt Damon is dense AF."
"Matt Damon proving, once again, that nothing is more fragile than masculinity," Cher said. "BTW, one should not need or require applause for being a decent human being and not harassing or assaulting others, Matt Damon."
Producer and director Warren Leight also tweeted: "Matt Damon positioning himself for the remake of Dumb and Dumber."
WEINSTEIN WANTED $25M 'LIFELINE' FROM NETFLIX TO SAVE HIS OWN SKIN
Damon was also criticized last week after he said in an interview with ABC News' "Popcorn with Peter Travers" that different actions shouldn't be placed in the same category.
"There's a difference between, you know, patting someone on the butt and rape or child molestation, right? Both of those behaviors need to be confronted and eradicated, without question, but they shouldn't be conflated, right?" Damon said.
Former co-star and ex-girlfriend Minnie Driver quickly slammed Damon for the remark.
"I've realized that most men, good men, the men that I love, there is a cut-off in their ability to understand. They simply cannot understand what abuse is like on a daily level," Driver told The Guardian.
"I honestly think that until we get on the same page, you can't tell a woman about their abuse. A man cannot do that. No one can," she added.