Marie Osmond will never get over son's suicide, cried when daughter said she was gay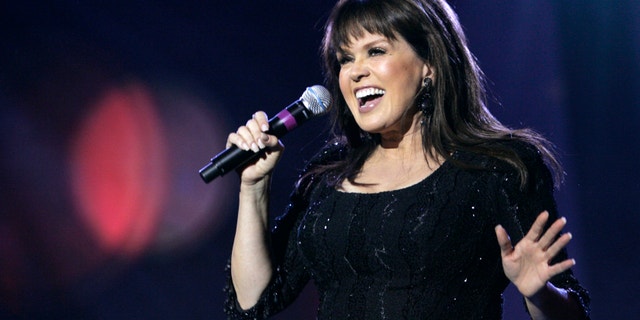 On Feb. 26, 2010 Marie Osmond's life changed forever. Her son, Michael, committed suicide at the age of 18. Her new book, "The Key is Love," is a deeply personal memoir about the most difficult times in the 53-year-old singer's life. It is also a heartfelt tribute to the matriarch of the Osmond clan: her mother Olive. Osmond sat down to talk to FOX 411 about it all.
FOX 411: Firstly I'm so sorry about your son Michael. It's something you will never get over, am I right?
Osmond: Never, never, never. Your life changes from that day forward. Your life never gets better. There is not closure and how can there be in a case like that when you can't ask why. I feel like the message of the book is not to block your intuition. Never be too busy to listen to your instinctive feelings when something feels wrong. You need to get there.
FOX 411: You were criticized for going back to work a couple of weeks after his death.
Osmond: I went back to work because I couldn't let my family die along with my son. I had to show them the way to keep living. They were all saying, "I can't go to school." I said, "No we choose life. Mike would have wanted that." It was so hard for me to get back on the stage two weeks after he died but I had to show my children that I chose to live. It was very hard and we talk about it, that's the other thing. I know there are other families that won't talk about it. Just as much as I lost a son, my children lost a brother and they still need to process it. My daughter got married Christmas Day and she said, "My brother should have been here." There will always be that loss.
FOX 411: You also write about your oldest daughter Jessica being gay in a very matter of fact way. She's your daughter and you love her, gay or straight.
Osmond: That's exactly right. I was so honored when Diane Sawyer named me "Person of the Week," and like I told her, "Diane, I love my daughter." I cried when I found out when she told me she was gay when she was 17 because of the judgment. I have many friends who are gay and I didn't want that for my child [because of the judgment].
FOX 411: The book is such a beautiful tribute to your mother.
Osmond: I wanted to write this book to honor her. I'm her only daughter and I think there's a perspective that only a female can have towards another female. There [are] little tidbits. I write in parables. I hope it honors her. I tried.
FOX 411: You write how you would come home after a 10-hour day on set and your mom would make you bake bread with her. Would you be able to get your kids to do that?
Osmond: I don't know so much about my boys, but my girls they all work with me. They know how to work. My daughters know it's not done till it's done, even if it's three or four in the morning. I don't want them to grow up with entitlement.
FOX 411: How did your mom get you to do that?
Osmond: I could have grown up to be a jerk. We had the number one show, dubbed into 17 languages and we worked with everyone. I'd come home and say, "Mom, I've been working all day" and she'd say, "No you haven't. You've been enjoying your life, you had a great opportunity and now you're going to work because I need the toilets cleaned." My mother never asked me to do anything she wouldn't do herself. She always taught by example.
FOX 411: You also aren't a big fan of government handouts.
Osmond: It's entitlement. Look I believe in helping people. The charity I co-founded, Children's Miracle Network, we've raised $4.7 billion for children. It's like you give a man a fish you feed him for one day but if you teach a man to fish you've fed him for a lifetime and I really believe that.
FOX 411: Thanks so much for speaking to me. I remember watching "Donny & Marie" when I was a little kid.
Osmond: (Laughs) I'm so sorry.