Mariah Carey stumbles, then says 'f---ing nobody' is good enough to sing at her wedding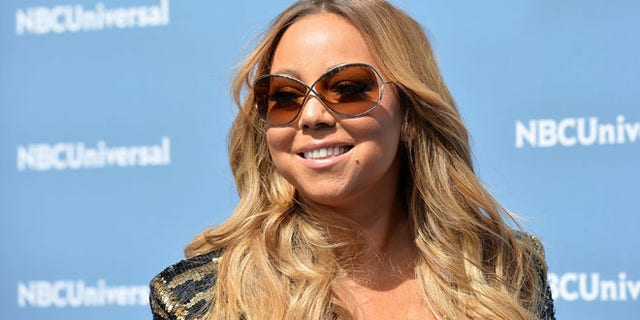 NEWYou can now listen to Fox News articles!
Mariah Carey is graceful on stage, but an early morning red carpet was a little bit more than her Christian Louboutin stiletto could take.
The 46-year-old pop diva, donning a sequined, tiger-striped minidress, fishnet stockings and high-heeled shoes, walked the red carpet at the NBC Universal Upfronts on Monday morning and nearly took a tumble when she lost one of her Louboutins.
"I know, it's not morning attire, but I don't care," Carey told Entertainment Tonight about her ensemble. "I don't know what a morning is."
Carey might not be a morning person, but her inner diva never falls asleep.
The singer is currently planning her wedding to billionaire James Packer, and claimed that it's going to be a small affair – and no, she won't be singing.
"Of course I'm not going to perform at my wedding. It's not even going to be like that," she told ET. "I'm not even sure someone is performing. It's more going to be a small thing. We already did the thing with the ring. So, you know, it's over the top already!"
But that didn't stop her from going over the top with the paparazzi.
Asked what performer would be good enough to perform at her wedding, she answered, "F---ing nobody. Bye!"
The preparations for her nuptials will appear in her upcoming reality docu-series, "Mariah's World."
The first preview was released on Monday and Carey's life seems as fabulous as one might imagine.
"I am not Cinderella, my life has not been a fairy tale," she said in the trailer. "Forget the image. Forget the rumors. I owe this to the fans."