'Madam Secretary' a campaign ad for Hillary Clinton 2016?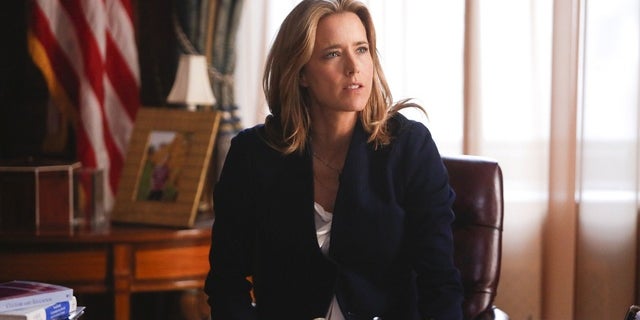 LOS ANGELES – Hillary Clinton hasn't made her run for President in 2016 official yet, but some think CBS may be doing some advance work for her campaign with its new drama "Madam Secretary," which debuted Sunday in the coveted time slot between "60 Minutes" and "The Good Wife."
Culture and Media Institute's Katie Yoder says the Tea Leoni-starring series, centered on a female United States Secretary of State, appears to be nothing short of "pro-Hillary propaganda."
"The connections in the show between Elizabeth and Hillary are clear, from the blond hair to the pantsuits," Yoder told FOX411 of Leoni's character, Elizabeth McCord. "The show portrays 'Madam Secretary' as a champion for the 'right thing,' even if that means challenging the president."
Following Sunday's premiere, several viewers also weighed in on social media referring to it as "a promo show for Hillary," a "one hour commercial for Hillary," and a"pathetic ad for Hillary Clinton for President."
Other viewers disagreed, tweeting that the show is simply "brilliant" with its "genuine family scenes" and "killer casting."
Many critics agree with the latter opininos.
The L.A Times in particular pointed out that Leoni's McCord is "no Hillary knock-off," and that she was not a "career politician" but one with a functional and relatable home life. The Hollywood Reporter praised the "multidimensional" aspect of the series given that the leading lady isn't just a successful working woman with a problematic family situation.
Leoni plays a former CIA analyst turned stay-at-home mom who is thrust into the position of Secretary of State. The premiere episode dealt with young American hostages held in Syria, in which she courageously handles the crisis.
"Madam Secretary" was brought to life by actor/producer Morgan Freeman and executive producer Lori McCreary, who told the L.A. Times that the idea for the show came when she saw Clinton "raise her fist" while testifying before Congress with regards to the 2012 Benghazi attacks.
Ronn Torossian, CEO of New York-based publicity firm 5WPR noted that it isn't at all surprising that a major network has cast a powerful woman as the lead for its new fall TV series.
"It is simple business and smart on CBS' behalf. Media chatter will increase in coming months about a possible leading woman politician, so surely it makes sense to give 'Madam Secretary' a prestigious spot on the network," he said.
Next week's episode is actually titled "Another Benghazi," while the third week delves into an Edward Snowden-like hacker causing chaos within the State Department.
Yoder, however, isn't convinced that "Madam Secretary" will work in Clinton's favor should she run.
"Ironically, the show stresses that a woman in power, a woman in control, has a conflict with 'masculine energy," Yoder added. "Rather than achieving its positive Hillary goal, the show's poor construction -- lack of dramatization -- and portrayal of women might miss the mark for some viewers."
Follow @holliesmckay on Twitter