Lindsay Lohan Due Back in Court for Probation Hearing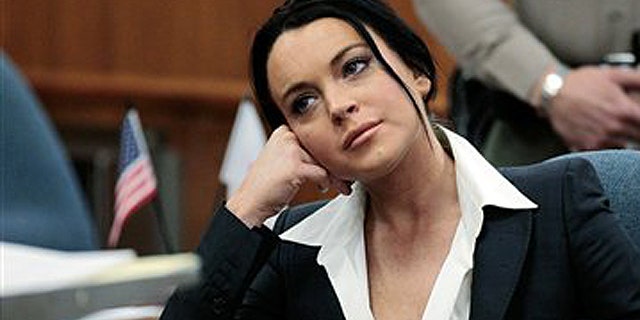 Actress Lindsay Lohan is scheduled to appear Tuesday in a courtroom for a probation revocation hearing that could end with her either headed for jail or her next movie role.
The hearing in Beverly Hills, California, is the culmination of several missteps by the 24-year-old starlet, whose probation for a three-year drug and alcohol case was revoked in May after she missed a hearing. She faces an increasingly impatient judge who has seemingly grown tired of the actress' inability to complete the terms of her sentence, or appear in court on time.
Lohan's fate is far from decided though. The hearing Tuesday morning is likely to feature testimony and evidence about her conduct and progress with her probation. Los Angeles County district attorney spokeswoman Sandi Gibbons said a prosecutor could still decide not to seek jail time for Lohan.
SLIDESHOW: The Wild and Crazy Life of Lindsay Lohan
If Lohan is ordered jailed, she will be taken into custody immediately. The length of her stay would be determined by Lohan's sentence, Los Angeles County Sheriff's Department spokesman Steve Whitmore said. He said inmates serving nonviolent offenses typically serve about a quarter of their sentence, although several factors are considered.
Lohan spent 84 minutes in jail in 2007 after she pleaded guilty to two misdemeanor counts of being under the influence of cocaine and no contest to two counts of driving with a blood-alcohol level above 0.08 percent and one count of reckless driving. The plea came after a pair of high-profile arrests earlier that year.
She was sentenced to three years of probation, but had to ask for a yearlong extension in October after she failed to complete her alcohol-education courses on time.
Prosecutor Danette Meyers warned Lohan at the time that she would face jail time if she violated her probation.
If the actress remains free she could lose a hated accessory -- an ankle alcohol monitor that she has been required to wear since late May.
Los Angeles Superior Court Judge Marsha Revel revoked Lohan's probation in May after the actress missed a court hearing to promote a film project at the Cannes Film Festival. Lohan claimed her passport was stolen, but Revel ordered her to wear the alcohol monitor upon her return. She also scheduled the evidentiary hearing that will be held Tuesday morning to determine whether Lohan violated her probation, and to what extent.
Weeks later, the monitor issued an alert after Lohan attended the MTV Movie Awards and its after-parties. Revel promptly doubled Lohan's bail to $200,000. Prosecutors called it an "alcohol-related" violation, but Lohan's attorney, Shawn Chapman Holley, downplayed the incident.
Chapman Holley was not available for comment last week.
Regardless of the outcome, Tuesday's hearing won't be the last reminder for Lohan of the court case and her arrests. She will soon be questioned about her drug use three years ago by civil attorneys representing a woman suing Lohan.
The actress' attorney persuaded a judge to delay that deposition until after Tuesday's hearing so that her answers couldn't be used against her in the criminal case.