Lindsay Lohan creamed over Liz Taylor portrayal: 'She sounds like a smoker from Long Island'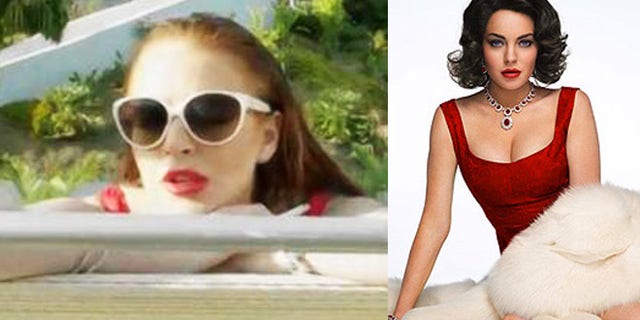 LOS ANGELES – It has been widely touted as Lindsay Lohan's acting comeback after years of personal problems, but the much-hyped Lifetime movie "Liz & Dick" is attracting more bad buzz than good, and it hasn't even hit the boob tube.
"It's just bad. Her voice – she sounds like herself, a smoker from Long Island and there is no chemistry with her co-star (Grant Bowler) and she was clearly not prepared," a Lohan insider who previewed the movie, told FOX411's Pop Tarts column. "There was no flair, no elegance."
And according to scores of other TV critics, Lohan, who claims not to read reviews, isn't even in the same building as Oscar-winning Taylor.
"Lindsay Lohan is spectacularly bad. Lohan is woeful as Taylor from start to finish. But whatever you do, don't miss 'Liz & Dick.' It's an instant classic of unintentional hilarity. Drinking games were made for movies like this," declared The Hollywood Reporter. "And the best part is that it gets worse as it goes on, so in the right company with the right beverages, 'Liz & Dick' could be unbearably hilarious toward the tail end of the 90-minute running time. By the time Lohan is playing mid-80's Taylor and it looks like a lost 'Saturday Night Live' set, your body may be cramped by convulsions."
Newsday agreed, calling Lohan's acting chops "rudimentary – made rustier by a long absence and a lot of extracurricular activities."
"She delivers lines dutifully, competently, and at times woodenly, but she also looks like someone who has to think about what she has to say before she says it," noted the news outlet. "That's usually called 'sleepwalking through a role' instead of actually 'occupying' one. Lohan is somewhere in-between most of the time, though closer to sleepwalking."
Others were slightly kinder.
Variety referred to her performance as "adequate," and the New York Post even went so far as to declare that at times she is "so believable you might think you're seeing the real thing" – that is until, Lohan backslides and delivers "lines that sound like DOA."
Of course Lohan didn't write the script, another sore spot for "Liz & Dick" watchers.
"The script was also awful and the whole thing came across as low-budget," explained our Lohan source. The NY Daily News concurred, offering a slightly more positive rundown of Bowler's performance as accurately capturing Burton's "rugged charm and rich voice," but acknowledging that the script did "neither Lohan or Bowler any favors."
"Taylor has lines like 'End of Story!' which sound suspiciously 21st century," adder the paper's reviewer.
So the big question remains: will the acting offers still come in for Lilo? Or could this spell the beginning of the end?
We may find out after "Liz & Dick" debuts November 25 on Lifetime.