Lin-Manuel Miranda says final 'Hamilton' performance was 'really moving'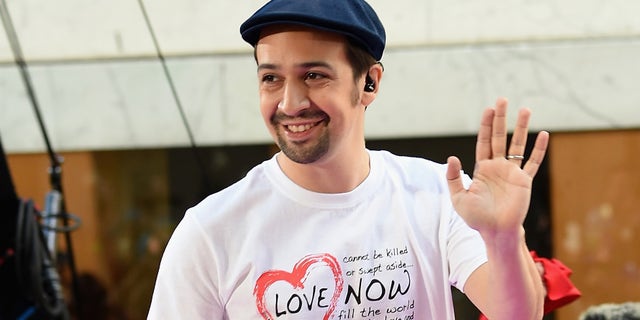 NEWYou can now listen to Fox News articles!
Lin-Manuel Miranda has said good-bye to Alexander Hamilton in a very liberating way: he cut off his long locks.
The Tony Award-winning playwright chopped off his now-signature "Hamilton" hair immediately after his final Broadway curtain call on Saturday night and fans online went crazy.
"Teach 'em how to say goodbye…" the 36-year-old Miranda wrote on Twitter, adding a black and white picture of his hair lying against a white table.
Miranda famously grew out his hair for the role. He told the Today show on Monday that he plotted the hair cut for two weeks.
"Now that Lin-Manuel Miranda cut his hair, the man bun is officially over. it's done. fall in line, dudes," one person tweeted.
"i feel like i lost a child when i saw lin manuel miranda cut his hair," another fan wrote.
Miranda's father, Luis Miranda, also tweeted a photo of the famous cut.
"After his last Hamilton performance, @Lin_Manuel shed tears....and hair," he wrote.
Monday morning, Lin-Manuel Miranda said his final performance at the Richard Rodgers Theatre on Saturday night was "very moving."
"The paradox of performing 'Hamilton' is that it really is the most relaxing part of my day. For 2 hours and 45 minutes, I'm with this amazing group of actors and all I have to do is be Hamilton," he added. "It was just an incredible, incredible night."
Fellow Boricua singer Jennifer Lopez, who was at his final performance on Saturday with boyfriend Casper Smart and her two children, said the words of the songs has a "different kind of weight" that night.
"It was such an emotional night. You could feel all the words had a different kind of weight," she said on the Today show. "It was just one of those magical moments on stage that is history-making."
The two musicians were on the NBC morning show to perform their new single "Love Make the World Go Round," which was released to benefit the victims of the Orlando shooting.
"I love the song. I love the hook. When everything happened in Orlando, I kind of heard it in a different way and (I thought) 'The world needs this right now'," Lopez said. "The world really needs the message of love being the answer."
She said she reached out to the very busy Miranda after listening to his moving Tony Awards speech.
Miranda said the song is a perfect way to amplify the message of love.
"There something different about this song," Lopez said. "Every time we listen to it, we get teary-eyed."
All proceeds of the song will go to Somos Orlando.
On Monday night, Miranda said he will actually be in the audience as Javier Muñoz takes over full-time in the lead role. Muñoz, who was also Miranda's replacement in "In The Heights," has been performing the title role in "Hamilton" once a week since it made its debute last year.
"It's an opportunity to continue the energy that we've built and the momentum that we've built and hopefully just reach more and more people with the power of this show," Muñoz told Fox News Latino on Saturday night. "(The show) speaks to everything we're dealing with today and it's a history that we are still trying to work through today and build upon today. So it's relevant with everything we are dealing with."
Lucia Suarez contributed to this report.
Like us on Facebook
Follow us on Twitter & Instagram