Lena Headey blasts Louis C.K.'s response to sexual misconduct claims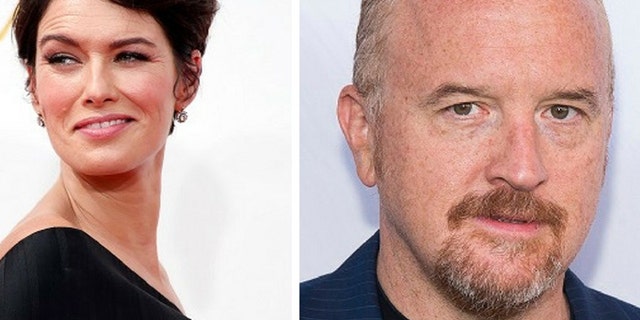 "Game of Thrones" star Lena Headey slammed comedian Louis C.K.'s response to the sexual misconduct allegations made against him.
On Saturday, Headey tweeted: "Louis CK. The words you wrote are a s--t show of narcissistic c--k soup."
Later, she tweeted in response to another Twitter user who defended the comedian and said he apologized and admitted to his wrongdoings.
"He didn't apologize," Headey tweeted. "FULL STOP. He wrote some stuff that he thought would make people still think he's funny. He ain't."
Last Thursday, The New York Times published a report detailing the harassment claims by five women against the "Louie" star.
LOUIS C.K.'S FRIEND MARC MARON SAYS COMEDIAN LIED TO HIM ABOUT SEXUAL MISCONDUCT CLAIMS
The women claimed the comedian either masturbated in front of them, asked to do it or did so over the phone. Four of the women, all comedians, identified themselves. The fifth woman asked not to be named.
On Friday, Louis C.K. released a statement admitting the claims were true.
"I can hardly wrap my head around the scope of hurt I brought on them," he wrote. "There is nothing about this that I forgive myself for."
"And I have to reconcile it with who I am. Which is nothing compared to the task I left them with," the stand-up comedian stated.
Following the report, the release of his new film "I Love You, Daddy" was scrapped. Netflix said it would not produce a second stand-up special starring the comedian,and FX Networks and FX Productions announced they were ending their association with C.K.
Last month, Headey revealed she had a disturbing encounter with disgraced producer Harvey Weinstein, who has been accused of sexual misconduct by dozens of women.
'GAME OF THRONES' STAR LENA HEADEY DETAILS CLOSE CALLS WITH HARVEY WEINSTEIN
She recalled initially meeting Weinstein at the Venice Film Festival in 2005. While they were walking together, she claims "he stopped and made some suggestive comment, a gesture, I just laughed it off, I was genuinely shocked, I remember thinking, it's got to be a joke, I said something like… oh come on mate?!?? It'd be like kissing my dad!!"
Headey said she met with him later and Weinstein suggested they go to his hotel room together. The actress said she told the producer nothing was going to happen in his room, which she said angered him. Weinstein allegedly warned Headey not to tell anyone about the incident.
The Associated Press contributed to this report.