LeBron James taunts 'Keeping Up with the Kardashians' TV crew
Cleveland Cavaliers star player LeBron James was not in the mood to be filmed during practice.
King James posted a video on his Snapchat this week taunting a "Keeping Up with the Kardashians" film crew that crashed the team's workout, the New York Post reported.
KIM KARDASHIAN SLAMS CAITLYN JENNER FOR 'LYING' IN MEMOIR ABOUT O.J. CASE
WARNING: VIDEO CONTAINS GRAPHIC LANGUAGE
The short video, which was released by The Shade Room, showed members of the Cavaliers working out with a few camera crew filming. James pivoted the video around the room saying: "The s--- show is here. The s--- show is here." At the end, James zooms in on a camera man filming him.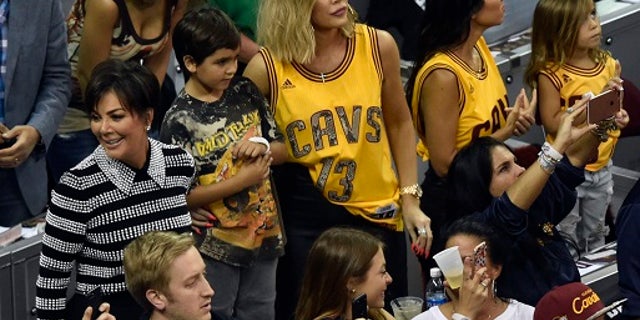 The camera crew was believed to be at the practice because teammate Tristan Thompson is dating Khloe Kardashian, one of the stars of the reality TV show. Kardashian and Thompson are reportedly expecting a child together, their first, next year.
WHAT KHLOE REGRETS FILMING FOR 'KEEPING UP WITH THE KARDASHIANS'
Cleveland 19 reported the crew gained access to Cleveland Clinic Courts, the team's training facility, but it was not clear how it was approved.