Lawyers: Brooke Mueller, Charlie Sheen Want to Reconcile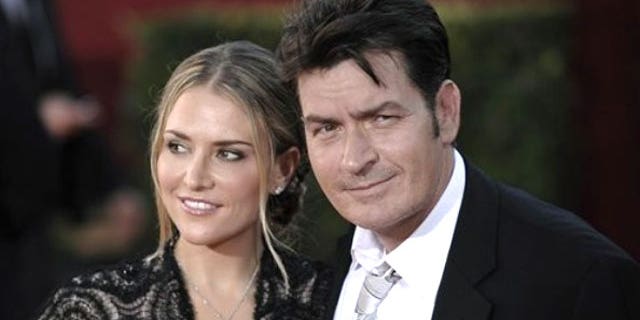 DENVER – Actor Charlie Sheen and his wife Brooke want to reconcile, their lawyers said Wednesday, even though she told police he put a knife to her throat and threatened to kill her less than a week ago.
"They're very much in love. They want to try to work it out and want to have the best shot at doing that," Brooke Sheen's attorney, Yale Galanter, told The Associated Press.
Charlie Sheen's attorney, Richard Cummins, confirmed his client wants to reconcile. Cummins said he is asking a judge to modify a restraining order that prevents the couple from having contact.
Charlie Sheen, 44, was arrested on Christmas Day in Aspen, where the couple was on vacation. Brooke Sheen, 32, told police he threatened her during an argument that started when she said she wanted a divorce.
Charlie Sheen told police the couple slapped each other and that he snapped two pairs of her eyeglasses in front of her, but he denied threatening her with a knife.
SLIDESHOW: Charlie's Women Through the Years
He faces charges of felony menacing, domestic violence, second-degree assault and criminal mischief and is free on $8,500 bond. A hearing is scheduled for Feb. 8 in Aspen.
Galanter said Wednesday that Brooke Sheen is standing by the account she gave police, but he said she didn't understand at the time that it would lead to her husband's arrest.
"Wives think the cops are going to break something up and they don't realize the husband is going to be taken to jail," Galanter said.
RELATED: Will Charlie and Brooke Lose Custody?
"I will tell you that both parties want to attempt to work this out. Whatever was said and whatever happened, I'm chalking it up as one really bad night," Galanter said.
An arrest affidavit quoted Brooke Sheen as saying her husband pinned her on a bed, held a knife to her throat and told her, "You better be in fear. If you tell anybody, I'll kill you. Your mother's money means nothing, I have ex-police I can hire who know how to get the job done and they won't leave any trace."
SLIDESHOW: Who is Brooke Mueller?
In an audio recording of a call to police, a woman who identifies herself as Brooke tells the dispatcher that Charlie Sheen threatened her with a knife and added, "I thought I was gonna die for one hour."
Galanter said Brooke Sheen hired him "because she is a witness against her husband and she wants him to continue being her husband."
He called it "a very interesting legal conundrum.... Events occurred. She gave a sworn statement to a law enforcement officer. She wants to work on her marriage and she wants to honor her legal obligations."
Asked if she would testify against her husband, Galanter said, "It's not going to come down to that." He declined to elaborate.
Galanter also declined to comment on Charlie Sheen's statement to police that his wife abuses alcohol.
Galanter said Brooke Sheen was still in Aspen on Wednesday with the couple's twin boys, who were born in March. Galanter said he was not concerned that social services might intervene out of concern for the children.
"These kids are in probably the most loving, nurturing, wholesome, healthy environment I have ever seen," he said, describing their mother as "doting."
Social services officials in Aspen said state law forbids them from speaking publicly about